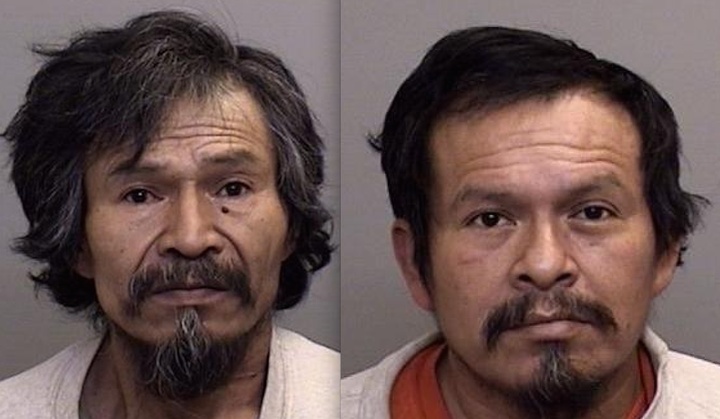 Mendocino County Sheriff's Office press release:
On 7/3/2017 Deputies with the Mendocino County Sheriff's Marijuana Eradication Team (COMMET) responded to the 16000 Block of Powerhouse Road in Potter Valley in response to an earlier observation of several "trespass grow" marijuana gardens in that area. There were three property parcels involved, one a private citizen owned and the other two belonging to Pacific Gas and Electric. None of the land owners were involved in the marijuana cultivation.

Deputies entered the first garden and confronted a Hispanic male, later identified as Celcilio Bautista, working the garden and demanded he get on the ground. He refuse and ran. Sheriff's K-9 "Doc" was deployed as the suspect was thought to be possibly armed with a firearm. The suspect attempted to divert the K-9 by spraying him in the face with a water hose. The attempt was unsuccessful and Doc was able to apprehend the suspect by biting his arm and holding him. The suspect then attempted to reach for a loaded .45 caliber handgun in his waistband but was unsuccessful and deputies were able to take him into custody. The handgun was later determined to have been stolen during a residential burglary in the Las Vegas Nevada area. Celcilio Bautista was later transported and treated for bite wounds at the Ukiah Valley Medical Center before being booked into the Mendocino County Jail.

Deputies then responded to the second garden where they confronted suspect Marcelino Bautista, Celcilio's borther. He too tried to flee but fell and hit his head on the ground. Doc was again deployed but did not bite this second suspect as he gave no more active resistance. Marcelino received a small injury to his head during the fall. He too was later treated at UVMC and then booked into the County Jail. At a small tent located in this second garden a loaded .44 caliber magnum revolver was located.

Deputies found each garden had a separate water diversion present, diverting water from a stream to man made ponds used to water the marijuana gardens. In the first garden deputies located and eradicated 1447 budding marijuana plants ranging in size from 2 to 4 feet in height. In the second garden deputies located and eradicated 3330 budding marijuana plants ranging in size from 2 to 4 feet in height.

Both men were booked into the Mendocino County Jail on the listed charges and are being held on $25000 bail.