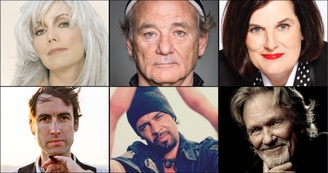 Hey! Look at this list of famous folk you might bump into at the Wildberries juice bar in the coming year!
Yes, it's that time of year when HSU's CenterArts and Associated Students unveil the list of performers they've been able to seduce for shows behind the Redwood Curtain and, as is the case every go round, the 2017-18 season features some names that jump out and force a "wow."
Here's one: Bill Murray… Wow!
What's Bill bringing? For his Dec. 4, 2017 show at the Arkley Center (a few CenterArts 2017-18 dates take place there while the Van Duzer Theatre is being renovated), Murray will be joined by cellist Jan Volger for a show called New Worlds, "a spirited evening of music and literature." We found a video preview which you can watch below:
So there's that. Other 2017-18 highlights include legendary songwriters Kris Kristofferson (Jan. 11, 2018) and Emmylou Harris (Oct. 11, 2017), indie folk sound magician Andrew Bird (Oct. 23, 2017), NPR-friendly humorist Paula Poundstone (Aug. 26, 2017), bass wizard Thundercat (Sept. 5, 2017) and the ever-present Michael Franti and Spearhead (Sept. 17, 2017). Full list and dates below. For more information head over to CenterArts' website:
8/26: Paula Poundstone
9/5: Thundercat
9/17: Michael Franti and Spearhead
9/19: National Acrobats of China
9/23: Pharoah Sanders Quartet
9/30: BeauSoleil avec Michael Doucet
10/11: Emmylou Harris
10/12: Van Cliburn Piano Competition Gold Medalist
10/23: Andrew Bird
10/26: B: The Underwater Bubble Show
10/30: La Santa Cecilia & Mexrrissey
11/3: MOMIX
11/8: Flip Fabrique
11/13: Dolores Huerta
11/16: Hot Rize
11/29: Bela Fleck & Abigail Washburn
12/4: Bill Murray, Jan Volger & Friends
12/5: Pink Martini
12/9: Scott Bradley's Postmodern Jukebox
1/10: Tommy Emmanuel
1/11: Kris Kristofferson
1/25: Ladysmith Black Mambazo
2/3: Bruce Cockburn
2/4: The St. Olaf Choir
2/10: Moscow Festival Ballet - Cinderella
2/13: Ron Finley Project
2/25: International Guitar Night
3/3: Willie K.
3/6: Squirrel Nut Zippers
3/11: Altan
3/14: Yamato Taiko Drummers of Japan
3/17: David Lindley
3/20: Roxanne Dunbar-Ortiz
3/24: Camerata RCO
4/10: Toumani Diabate & Sidiki Diabaté
4/17: Complexions Contemporary Ballet
4/25: Bob Henson
4/29: Perdito Martinez Group