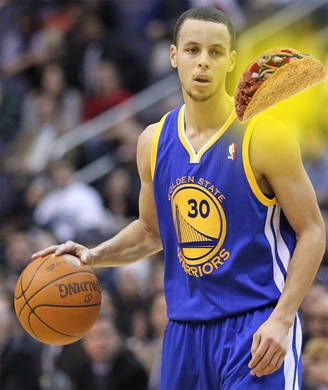 The Golden State Warriors are once again NBA Champions.
Steph and the gang clinched their second NBA title in three years yesterday, handily besting LeBron's Cleveland Cavaliers 4-1 in a seven-game series.
But the real story here is that Dubs also won a road game in the process. And as part of Taco Bell's "Steal a Game, Steal a Taco" promotion, the company is giving away free Doritos® Locos Tacos to anyone living in the 50 states today — no purchase necessary. America!
But you may be wondering, how do I obtain one of these aforementioned treats?
Don't stress, LoCO has laid out a very simple set of instructions that will lead you directly to a free taco.
Step 1.
Go to any participating Taco Bell today between 2 and 6 p.m. (This is very important, if you do not go today between 2 and 6 p.m., you will be charged full taco price.)
Step 2.
Wait in line. When you make it to the cashier, utter the words "free taco."
Step 3.
Insert free taco into mouth.
According to Taco Bell's website, the offer is only valid "while supplies last." So try to get there as early as possible. There is also a strict one-taco-per-customer rule.
"Participating Taco Bell restaurant managers reserve the right to deny Free Taco to any person they reasonably believe has already received a Taco or has engaged in any other fraudulent activity," the Taco Bell website states.
So have your false mustache and sunglasses ready if you are bold enough to seek the deliciously forbidden second free taco.