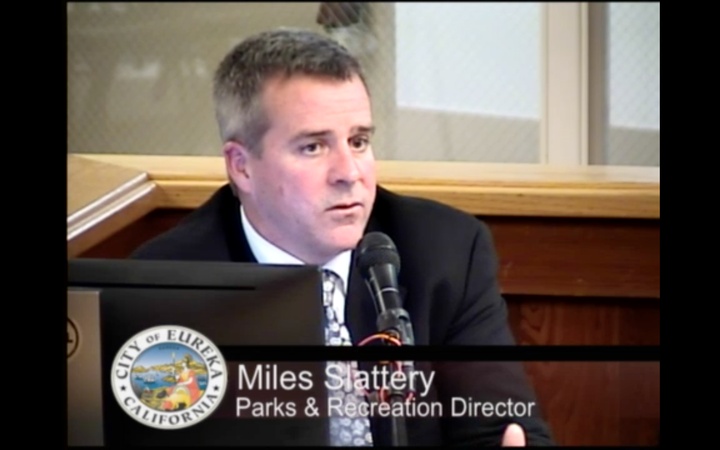 PREVIOUSLY:
Eureka staff (and Humboldt County Supervisor Ryan Sundberg) tried mightily to convince federal regulators that the best place to dump Humboldt Bay's dredge spoils is a beach on the Samoa Peninsula, but with the Environmental Protection Agency holding firm on its opposition to that plan, city staff has agreed to pursue another option.
At Tuesday's City Council meeting, Parks and Recreation Director Miles Slattery announced that the city aims to hire a contractor to dig up the fine-grain silts and mud from Eureka's public marina with a clamshell dredge, put that material into barges called dump scows, and haul it roughly three miles offshore to a federally designated disposal site known as HOODS (Humboldt Open Ocean Dredged Site).
Slattery's frustration with the EPA was evident as he told the council, "They still refused to consider our material in any way beneficial." He had argued that our harbor's dredge spoils would have no negative impacts if deposited on the beach, but EPA regulations prohibit such dumping unless the material is mostly sand. Humboldt Bay's dredged material is largely made up of fine-grain silt.
Slattery recounted a number of other potential disposal options and explained why they, too, won't work. There are a couple of upland disposal sites, for example but they don't have enough capacity to accommodate the 80,000-100,000 cubic yards of dredge spoils that need to be pulled from the marina. Dumping the spoils into the main shipping channels seemed like a promising option until the Army Corps of Engineers said it wouldn't be allowed.
That left the HOODS approach, which Slattery had previously rejected as too costly. But at Tuesday's meeting he explained that the city can potentially save money by coordinating with the Coast Guard, which has its own maintenance dredging project scheduled to begin in August.
There remain some logistical questions about the HOODS approach. Slattery said staff isn't sure that the clamshell-style dredge will be effective and efficient in our harbor. The suction-head dredge that the Harbor District recently purchased can't be used in conjunction with dump scowls because it sucks up too much water, so the scows would have to take "hundreds of thousands" of trips out to HOODS and back, Slattery said.
But once this year's dredging project is complete, the City and the Harbor District plan to use the agency's own dredge to perform more regular maintenance dredging of both Eureka's public marina and the Woodley Island Marina. In the future, Slattery said, the city may be able to deposit dredge spoils in the Palco Marsh, which would have the dual benefits of replenishing the marsh's supply of fine-grain sediment while also helping to eradicate the invasive spartina.
"The Coastal Development Permit for that would be tricky," Slattery said, "but it would be a really good use of the material."