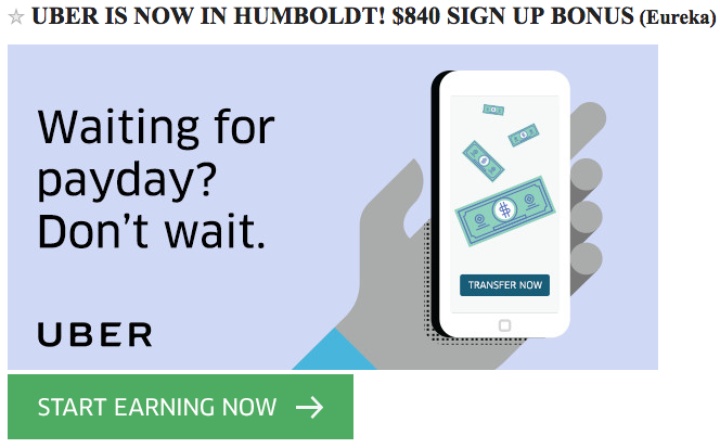 Last month, Arcata resident Meadow Bell saw an ad on Craigslist recruiting Uber drivers here in Humboldt County. She's a fan of the ride-hailing service, and she'd been looking for part-time work. But she wasn't sure if the ad was legit, so she emailed the link to her boyfriend, who did some research and determined that it was indeed real. He quickly decided to sign up as a driver, and Bell soon followed suit.

She's been driving for the company for about two weeks now, picking up people who request rides via the Uber app and driving them "all over," she said. In a phone interview last week she said she'd given about 50 rides since signing on as an Uber driver, taking people to and from the airport, Humboldt State University, their jobs, the Blue Lake Casino and "some parts of towns I didn't even know existed, like rural Dow's Prairie."
For Bell and many others, the arrival of Uber in Humboldt County is an exciting milestone. Like when the Bayshore Mall opened in 1988, or the Eureka Costco in 1994, or our first Starbucks a few years later, Uber's presence is seen as a sign that we've finally joined the modern world.
Young folks in particular are stoked. Just last month an HSU student wrote an opinion piece in the Lumberjack pining for the ride-hailing app, which students from urban areas have come to rely on for transportation.
Though the company has technically been active in Humboldt for a couple years now, until recently few locals had signed up as drivers, making the service effectively useless. But over the past few weeks Uber has launched a marketing campaign here, offering hundreds of dollars in sign-up bonuses through Craigslist ads that boast of big money-making potential: "Uber drivers in United States are making $547/week in fares!" one such ad declares.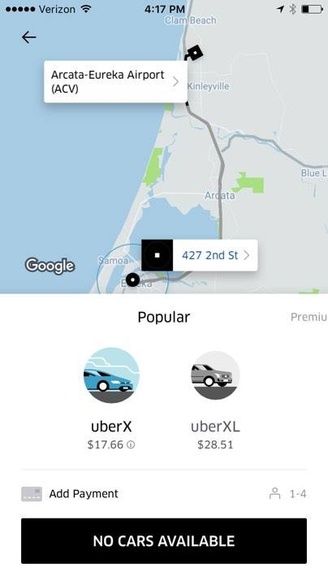 But as with those earlier corporate incursions behind the Redwood Curtain, some locals worry that Uber's presence could prove harmful to the community. The San Francisco-based company has recently been barraged with lawsuits and negative press, including allegations of deliberately deceiving authorities, tolerating widespread sexual harassment, and exploiting workers through a business model that classifies drivers as independent contractors rather than employees. As such, Uber drivers are not legally entitled to minimum wage, overtime pay or reimbursement for expenses, nor are they offered benefits such as health insurance.

The company has devastated the taxi industry in cities across the country, and local cab companies fear it will do the same here. Jaison Chand, chief operating officer of City Cab and City Ambulance of Eureka, said Uber's arrival has already had a negative impact.
"We cut two full-time benefited positions so far," he said. The company still employs 46 drivers, so the layoffs represent just a fraction of his workforce. "But there's definitely a concern," Chand said.
Bell, for her part, is having fun as an Uber driver. Her first day driving was last Monday. She logged on around noon, using the app to switch her status from "offline" to "online," and worked for the next eight hours, giving rides to 10 customers in that time. Some were going to work; others were having their cars worked on and needed a ride to the shop. "And there's HSU students who don't want to walk or wait for a bus in the rain," Bell said. "It's not convenient to use public transportation."
Scott Binder, a dairy products distributor living in McKinleyville, also became an Uber driver recently, and he said the sign-up process was simple. He answered some questions on the website about his driving record, his insurance and the age of his car (Uber doesn't allow cars more than 15 years old). He took the car to a mechanic for a checkup and then sent Uber a copy of his driver's license, registration and insurance. Oh, and he had to pass a background check.
"It's a very painless process," Binder said. As a driver he charges a base rate of 75 cents per mile plus 12 cents per minute. With Uber taking a cut, that's hardly enough to get rich on, especially since he doesn't get paid for the miles from his house to Arcata and Eureka, where most riders can be found. But Binder said he's not really doing it to make money. "My motive was just to have a little bit of fun," he said.
Binder thinks Uber's business model doesn't really work in drivers' favor unless they're in a city like San Francisco, where the company uses "surge pricing," charging riders significantly higher rates during periods of high demand. Here in Eureka the minimum charge is $5.10 for even the shortest rides, and Uber keeps a booking fee of $2.10.
"You're not gonna make any money unless you live in a metropolitan area and drive on weekends, shuttling drunk people around," Binder said. "But it's fun for me to meet new people and spend my leisure time in that fashion."
Bell has more ambitious goals. She and her boyfriend have been driving quite a bit and have managed to make a little profit, in part due to tips. "Where you really make the money is on a little bit longer trips, like going between Arcata and Eureka, taking someone home," Bell said. She's hoping that between her and her boyfriend, the Uber income will be enough to pay off one of their cars.
"I don't see someone personally making a living off of being an Uber driver" here in Humboldt, she acknowledged. "We've figured out that it seems to be about $10 an hour for active online/driving time. That's minimum wage, but the fact that you can log on whenever, work when you want to with no commitment, that's really the selling part."
But Chand said the math is not that simple. "They tout you get to pick you own hours, which is true, but they're counting on the fact that drivers haven't gotten their calculator out and figured how much it costs to drive a car," he said. With Uber taking a 25 percent cut of the 75-cents-per-mile fee, that leaves drivers earning barely 56 cents per mile, Chand noted, which is just a hair above the state's reimbursement rate for the costs of operating a vehicle, including wear-and-tear and gas.
Chand, of course, has a financial incentive to talk smack about Uber. But he believes there are community values at stake. "City Cab guarantees a wage over minimum wage; we buy workers' comp insurance; we pay employer-side social security taxes; we guarantee our drivers get paid breaks and a lunch period; they get sick time and paid vacation; we offer medical and dental insurance for all our drivers; and we're up against a company that does none of that," he said. "We don't want to cut those things. We run our business according to our values and we don't want to compromise them."
He feels Uber is not competing on a level playing field. The cities of Eureka and Arcata have ordinances regulating taxicabs, and Chand said they're holding his company back in some ways. For example, Eureka's ordinance requires cabs to use a meter inside the cars, technology that seems downright antiquated compared to Uber's smartphone app.
Eureka City Manager Greg Sparks said city staff has begun reviewing the municipal taxi ordinance in hopes of bringing an updated version to the City Council sometime this summer. In California, unlike most other states, local governments have been denied the power to regulate ride-sharing companies such as Uber. Instead, the courts have ruled that Uber and its competitors, such as Lyft, should be regulated by the California Public Utilities Commission.
San Francisco and Los Angeles have filed suits challenging that decision, but those suits have been unsuccessful thus far. Cities in other states, including Portland and Eugene, Ore.; Panama Beach, Fla.; and Anchorage, Alaska, have banned ride-sharing services altogether, though Uber has worked to evade and deceive authorities looking to enforce those bans.
Chand is hoping local cities can remove some of the bureaucratic red tape and allow City Cab to operate like a 21st century company. City Cab has developed a smartphone app that operates much like the Uber app, allowing riders to put in their credit card information and hail a cab from their phones, though local regulations prevent the company from offering flat fees or listing fares online. But even if City Cab gets the green light to use that tech in Eureka and Arcata, he said, the treatment of workers remains a significant issue.
"There are real jobs and real people threatened," Chand said. "But we also understand that Uber is very popular, and technology is the future. And we as a taxicab industry have to respond to that, and I think we can probably thank Uber in that they forced everyone to look to technology, which is where younger riders are looking to get their rides."
Bell and Binder said they haven't really followed Uber's legal troubles in the news, though Binder said he did catch the recent story about Uber's CEO getting caught on video arguing with a driver about the company's rates. And what Chand sees as negative, Bell views as a plus.
"The really cool thing about Uber is you're an independent contractor," she said. "It's set up to be a very independent thing. … That's what differentiates it from a taxi company. They make it really clear."