UPDATE, 3/10: Lost Coast Research CEO David Bridge sent the Outpost a statement in response to yesterday's raid:
Lost Coast Research is a family owned, locally run, research facility that offers services including: cannabis testing for compliant, legal cannabis businesses, breeding and marker- assisted breeding best practices methodologies, intellectual property protection, and product development services. While conducting business within the legal cannabis framework, our facility was targeted by a false and anonymous claim of being an extraction facility. Lost Coast Research has never taken part in any aspect of the cannabis industry other than research and testing of legal cannabis from legitimate 215 patients, cannabis companies, and legal users under the new Prop 64 laws. We will continue to fight these false allegations.
# # #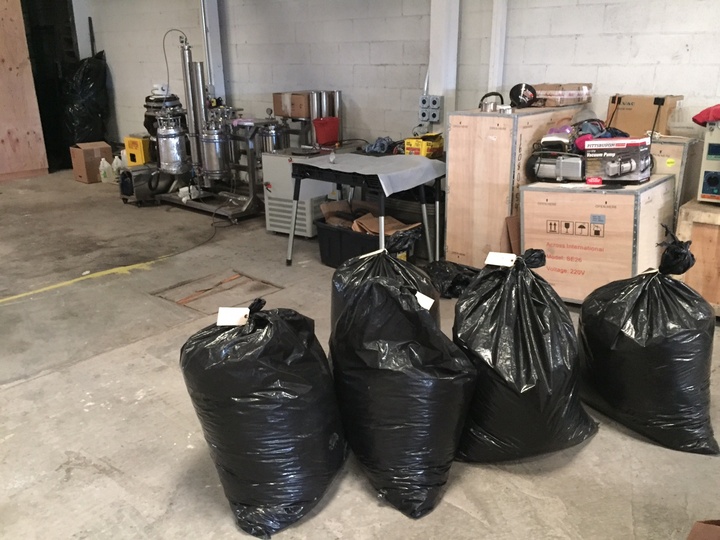 UPDATE: From the Eureka Police Department:
On 3/09/17, at about 12:50 PM, detectives with the Eureka Police Department's Problem Oriented Policing Unit (POP), assisted by City of Eureka Code Enforcement officials, special agents with the Humboldt County Drug Task Force, and the Humboldt Bay Fire Department, served a search warrant at a cannabis related business near 4 th/A Streets, Eureka.

The warrant was in response to information EPD received concerning the presence of a suspected unpermitted and illegal BHO (Butane Hash Oil) lab at the location.

In July 2016, the City of Eureka had approved a cannabis-related business license for the company, Lost Coast Research LLC, under the ownership of CEO David Bridge. Bridge's company was permitted to conduct "Ag Testing, Bioinformatics, and Cannabis Testing" at the premises. However, the license for a cannabis testing lab did not allow the site to have any volatile extraction equipment, butane in any volume, or to manufacture hash via that process. Bridge was not present at the time the search warrant was initially executed.

Upon forcing entry into the locked business, investigators confirmed the presence of a complete "closed-loop" BHO extraction system inside. The system was pressurized, functional and set up to manufacture hash, but it was not currently in operation. Marijuana "shake" (cannabis material) was located in the system's attached extraction tube. Additionally, 5 large garbage bags containing an estimated 100 pounds of cannabis shake were found nearby along with a 120 pound tank containing approximately 65 more pounds of butane.
An active grow room containing approximately 380 marijuana plants in various stages of growth was also located inside the building. While it appears the business' license allowed limited cultivation for testing purposes, the modifications to the interior space was a violation of the Building Code. The City had not received or approved a building permit application for the site. While detectives were still processing the scene, Bridge arrived and was subsequently interviewed about his company's activities and the BHO extraction system.

The BHO extraction system was dismantled and remove from the site along with the butane tanks. Bridge was cited and released for a violation of Eureka Municipal Code Section 92.10 (Regulation of the Sale, Purchase, and Possession of Butane). Additional sanctions may follow for other code violations that were also discovered. EPD will be forwarding a felony criminal case to the Humboldt County District Attorney's Office for review and possible prosecution of Bridge for Health and Safety Code 11379.6(a) – Manufacture of a controlled substance by chemical extraction.
###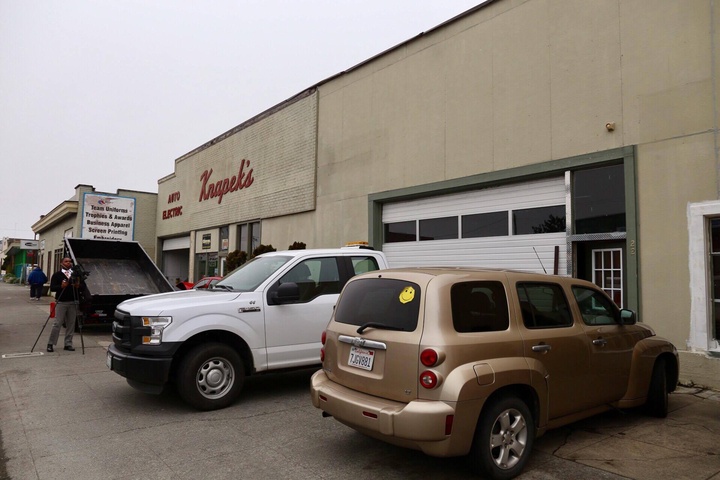 The Eureka Police Department's Problem Oriented Policing unit raided a commercial location on West Fourth Street this afternoon, where they found equipment used in closed-loop butane hash oil extraction operations and about 100 growing marijuana plants.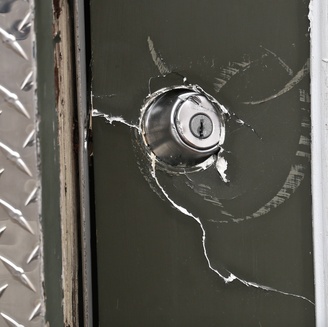 The building raided — 22 W. Fourth Street — is the listed address of Lost Coast Research, a marijuana testing and "bioinformatics" business.
"This is still an active investigation and no decisions on arrests/charging have been made yet," Captain Steve Watson of the Eureka Police Department told the Outpost. "We are looking at all applicable local ordinance and state laws to determine what violations we have here."

"We are very concerned about the public safety risks of volatile/butane extraction labs," he added.
Though the business is or had been licensed for cannabis analysis, it did not have any sort of license for the operation of a butane hash-oil extractor. Police and allied agencies are attempting to dismantle the unit now. David Bridge, the owner of the business was not on site when officers initially entered the building, but later arrived at the scene to speak with detectives.
Watson said that the city's code enforcement unit had been to the location before.
The Outpost spoke with Daniel Bridge, David Bridge's brother, who told us that, actually, the butane extraction equipment on site was being stored at the location as a favor for a friend. He was adamant that there was no concentrated cannabis on the premises.
"We're a research facility," Bridge said. "We're doing DNA research and we're trying to map the cannabis genome."
As for the growing marijuana plants found at the site, Bridge referred to it as a "living library" LCR draws from during its genetic research to make tissue cultures. Bridge believed his brother had taken the necessary steps the City of Eureka requires to operate a cannabis business but felt that EPD chose to make an example of them.
"It's really frustrating for us," Bridge said. "We're a family-owned, local business that's literally the only testing facility for miles and miles. We're not criminals. We're just basically scientists that are trying to improve the cannabis community here so we can have an industry."
Watson said EPD was continuing to investigating if the equipment had been used at that location.
"Whether or not there was an active, on going volatile extraction lab manufacturing hash there is still being investigated," Watson told the Outpost. "There is some evidence it was operated at least once there, but, again, the investigation is not complete yet."
With numerous cannabis-related businesses opening up along the corridor on Eureka's west Fourth Street — dubbed "extraction alley" — Watson said the Eureka Police Department will be diligent in making sure everyone is following laws during this time of transition.
"Firm but fair is the operating principle for us here," Watson said. "With that being said, illegal activity that endangers the public will not be tolerated when discovered, hence the level of our response and thoroughness of the investigation. We're looking for an accurate picture of exactly what was going on there."