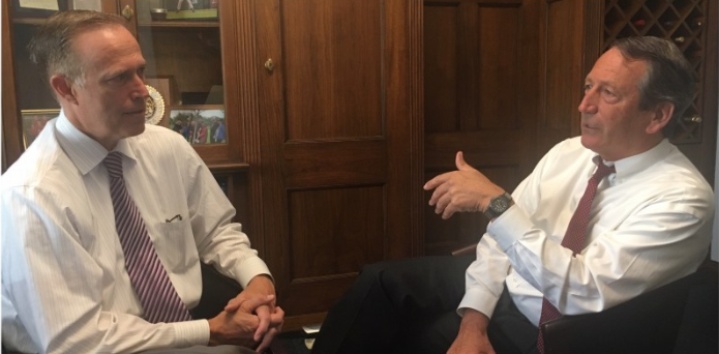 Have you ever wondered what it would be like if a Republican and a Democrat had a conversation with one another? That's gotta be weird, right?
Well, here's a way for you to find out. Podcast host Jared Huffman (D-San Rafael) recently sat down with a Republican colleague in the House of Representatives — Mark Sanford of South Carolina — to have a freewheelin', freeflowing discussion about all kinds of things on the Hill and around the world, up to but not including Sanford's famous Appalachian Trial hike, a topic Huffman broaches, unsuccessfully, at a couple of points.
Here's the show:
"Off the Cuff," with Jared Huffman. Guest: Rep. Mark Sanford
Huff says:
From Trump's infamous border wall to the Confederate battle flag to how to recover from a political setback, you're in for an exciting conversation on the latest episode of "Off the Cuff w. Rep. Huffman."

This week, I had the opportunity to sit down with my colleague, workout buddy, and now my first podcast guest from across the aisle, Rep. Mark Sanford (R-SC).

You may think that a Democrat from California and a Republican from South Carolina wouldn't have much common ground — but as you'll see in the next half hour that's simply not the case.

Our conversation ranged from climate change to how to make bipartisan progress more broadly, and of course as representatives of two beautiful coastal regions we had to talk about our congressional districts.

For those of you who don't know him: Rep. Sanford began his political career with three terms in Congress, serving in the House until 2001. Shortly afterwards, he ran for Governor of South Carolina where he served until 2010, earning recognition for inviting more business into the state and bolstering its economy. He later returned to his former seat in Congress following a 2013 special election.

Have a question? Please send it to huffmanpodcast@gmail.com and you can hear me answer on a future episode of "Off the Cuff with Rep. Huffman."

Cheers!