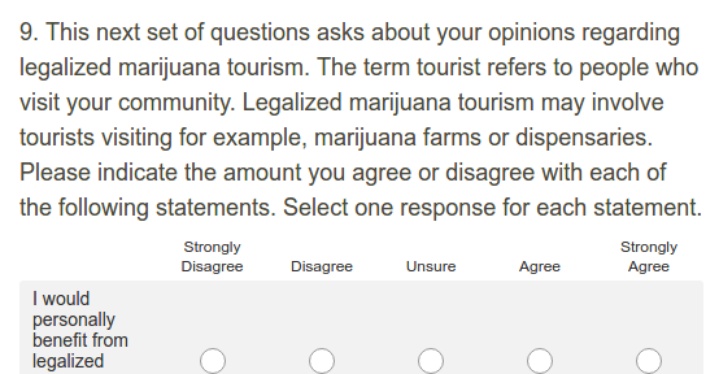 What do you think about tourism in Humboldt County? In particular, what do you think about the possibility of a new cannabis-related tourism sector in Humboldt County?
Does tourism negatively affect your community's way of life? Do you think it increases the amount of crime in your community? Does it contribute substantially to the county's tax base? Does it make the local arts scene more lively? Does it better your quality of life?
Now, what do you think will happen if we develop a marijuana-related tourism sector here in Humboldt — bud 'n' breakfasts and the like? Would you stand to benefit? Would it scare away some families who would otherwise visit? Would it be a net positive for Humboldt County's economy, or would it be a net negative?
Have opinions? Then why not take the quick survey put up today by Dr. Ara Pachmayer, a professor in Humboldt State's Kinesiology and Recreation Administration department? She's looking for as many opinions as she can get.
Pachmayer, who came to Humboldt about a year ago, told the Outpost this morning that she's been studying the tourism sector, and opinions about it, for quite a while, and that when it came time to dive deep into research on Humboldt County, the prospect of legal marijuana tourism seemed a natural subtopic.
"I just look at residents' attitudes, and this is just something that came up that I thought could be really interesting because of our location," she said.

An earlier version of the survey — conducted by students with pen and paper — didn't gather enough responses from a diverse enough selection of the county to be very useful for analysis, Pachmayer said. So she's hoping for a lot of response to this new online version. She's planning to leave it up through most of the summer, after which she'll collate the data, conduct some follow-up interviews and start to sort through what she has found.
After that, she said, she'll be sharing her conclusions with local policymakers, industry insiders and basically whoever else might have a use for it.
So take the survey. It's fun!
###
LINK: