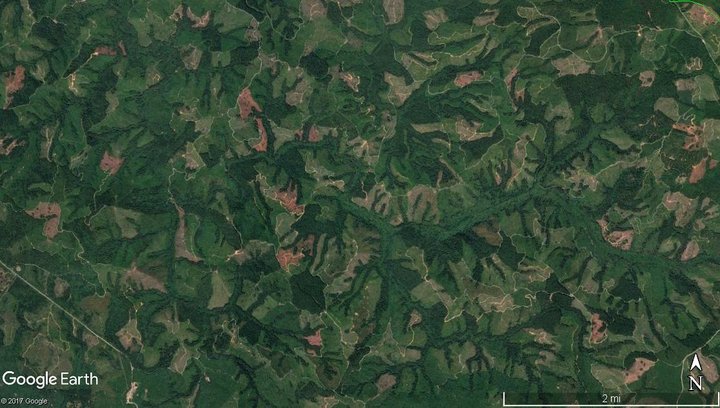 The Environmental Protection Information Center, or EPIC, hopes Humboldt County voters will endorse a countywide ban on clearcutting and other timber industry practices that they say are harming water quality and wildlife habitat while exacerbating climate change.
In a press release sent out this morning, the group says volunteers will be gathering signatures to get a measure on the general election ballot for November 2018.
But the process of actually implementing such a ban isn't quite so simple, as Humboldt County Counsel Jeffrey Blanck explains in his summary of the initiative: "State law gives exclusive authority to regulate the conduct of almost all timber operations to the California Board of Forestry and Fire Protection."
So, in effect, even if voters approve the measure it would merely serve as a recommendation or request to the Board of Forestry. But Rob DiPerna, EPIC's longtime liaison to that board, said there's reason to believe the board would agree to such a request.
Other counties, including Marin, Santa Cruz and San Mateo, have proposed county-specific rules that were ratified and implemented by the board, DiPerna said. Plus, almost all the language in the EPIC-penned initiative was cobbled together from rules already in place elsewhere in the state.
DiPerna admits that EPIC's approach is a bit different, though.
"I don't know that any other county has done this via an initiative before," he said. "It's definitely out-of-the-box on our part."
The initiative also asks for more stringent rules on other forestry practices, as explained in the county's summary:
Large trees, snags, wildlife trees, and hardwood trees in the area to be logged would have to be retained. The use of heavy machinery on slopes over 40% would be prohibited. Tractor and skid trails on slopes greater than 20% would be required to be covered with slash or mulch during the winter period.

Skid trails, landings and work areas must be reseeded, mulched or protected by compacting slash and debris from the harvest operation. A qualified technical expert would, on request, be permitted to accompany a county representative on any field review to be conducted prior to approval of a timber harvest plan.
DiPerna said voter approval is key "We want the voters of this county, not just EPIC, to stand up before the board and say, 'Hey, our voters wanted this.," he said.
You can read the summary and the full text of the ordinance below. Here's the press release from EPIC:

Eureka, Calif.—The Environmental Protection Information Center (EPIC) has submitted a voter initiative to Humboldt County to ban the destructive forestry practice known as "clearcutting" within Humboldt County and implement well-recognized principles of sustainable forestry.

Clearcutting and other even-aged management involves the removal of all or nearly [all] of a forest stand in a single harvest. This extreme forest disturbance harms water quality and wildlife habitat, and exacerbates climate change. Volunteers will be collecting signatures on the ordinance with the intention of making it on the general election ballot in November 2018.

"Clearcutting is a relic of another era," said Tom Wheeler, Executive Director of EPIC. "Clearcutting is bad for Humboldt County. It releases more carbon dioxide than a forest fire, destroys fish and wildlife habitat, and pollutes drinking water. As Humboldt County residents, we demand better."

Timber can be harvested using less destructive methods, such as selection logging, which removes only a portion of trees while preserving the forest. This ordinance would require these types of methods to be employed. The ordinance would also require that timber companies retain large, old trees and other wildlife trees that are disproportionately important for species that depend on older forests.

Humboldt County would join Marin County in banning clearcutting, and would join a number of other local governments, including Berkeley, Brisbane, Daly City, Davis, Menlo Park, Monte Sereno, San Francisco, Saratoga, and Sunnyvale, in expressing their opposition to the practice.

Local regulation of timber production is preempted by state law; however, the California Forest Practice Act provides that counties can recommend rules to the Board of Forestry and Fire Protection. These rules must be adopted if the rules are consistent with the Forest Practice Act and necessary to protect the needs of Humboldt County.

Successful timber companies do not need to employ clearcutting to provide good paying jobs. In the redwood region, Humboldt Redwood Company and Mendocino Redwood Company both do not utilize clearcutting in their forest management. Across the state, other companies, such as Collins Pine, based in Plumas County, have likewise demonstrated that clearcutting isn't a necessary tool to be successful.

# # #

The Environmental Protection Information Center (EPIC) advocates for science-based protection and restoration of Northwest California's forests, using an integrated, science-based approach, combining public education, citizen advocacy, and strategic litigation.
DOCUMENTS: