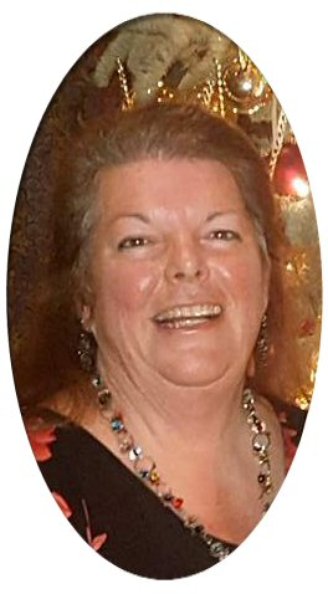 BETH ALYCE BISGROVE WAYNE, June 3, 1960 - Nov.r 2, 2017, beloved wife of Randy Wayne, passed suddenly in the middle of her toe-to-toe with cancer. Recently relocated to Arcata, she remained active to the end, enjoying daily walks with the love of her life and their canine children, Bogart, Pippa and Chance.

A California native raised in the Pauma Valley, Beth discovered theatre in high school and was graduated from Santa Clara University in 1982 with a theatre arts degree focused on lighting design. After backpacking through Europe and one winter in Boston, she returned to the San Francisco Bay Area to manage Game Gallery stores before resettling to Ferndale and opening Parlor Pastimes in 1991. Switching to real estate in 2000, she moved to Eureka in 2002, and soon became an award-winning RE/MAX Realtor.
Always a theatre devotee, Beth enjoyed designing costumes in Ferndale for Clint Rebik, then engaged him to direct Victorian Village Mysteries' 14 years of nefariously entertaining weekends, which she plotted with best pal and fellow mastermind Ellen Briggs as a way of having a blast while working with their favorite people. She later became a booster and consortium member for Redwood Curtain Theatre.
Beth swore in college that she would never marry an actor, but did not anticipate Randy, the actor she loved at first sight and with whom she spent 22 happy years, marrying on April Fools Day, 2000.
She is also survived by sister-in-law Terry Ann Wayne; sister-in-law Shoy Nelson, her daughter and son-in-law Eryca and Sebastian John and their baby Magdelena; sister-in-law Jo Ellen Wayne Campbell and husband Alan Campbell and their children Margaret and Charlie; brother-in-law Jay and wife Maria Wayne and their children Lisa and Alexander; step-sister Judy Wood and her partner Sue Parker, Judy's daughter, Greggy Murphy, and her children Steavie Jones, Nikki Hillard, and Andrew Hitchcock and four great-grand nieces, Judy's son Tom Pancoe and his sons Tanner Givis and Josh Pancoe; as well as a constellation of devoted friends and coworkers.
Beth was a fun-loving, generous woman of great heart, good humor, sharp mind and hard work, a true friend and fierce advocate for those she loved. She had a passionate nature, which expressed itself in her delight in — among other things — art, travel, baseball, reading, whitewater rafting, feng shui, gardening, mysteries, feeding birds, research and archeology, puzzles, games with friends, dogs and the US Navy, in which her father had served. Beth was preceded in death by her parents, treasured dad George Bisgrove, and beloved stepmother Helen Wood Bisgrove.
Formative experiences included her years on the Paso Robles llama ranch, youthful summers working at Jackson Hole in the Grand Tetons, her presence in Candlestick Park during the Loma Prieta earthquake, and in Ferndale for the three 'quakes of '92. Beth was continually amazed by the people she met in Humboldt Co. and could not imagine living anywhere else; she counted herself blessed. Recognizing that she was a blessing, countless friends pitched in when Beth became ill. Colleagues at Eureka RE/MAX, especially her mainstay Keyera Mullins, were invaluable in her final year. Beth and Randy also received compassionate, professional support from hospice nurse Tiffany, who was a godsend. Heartfelt and profound thanks to all.
At noon Wednesday, Dec. 13, 2017, we will celebrate Beth at The Wharfinger Building, 1 Marina Way, Eureka. In lieu of flowers, please consider adopting a pet, or donate to Hospice of Humboldt, Redwood Curtain Theatre, Any Dog Rescue, Sequoia Humane Society, Humboldt Assn. of Realtors' Toys for Kids, or Habitat for Humanity. Then hug your loved ones and snuggle your pets in Beth's honor. That would light up her brilliant smile.
###
The obituary above was submitted on behalf of Beth Wayne's family. The Lost Coast Outpost runs obituaries of Humboldt County residents at no charge. See guidelines here.