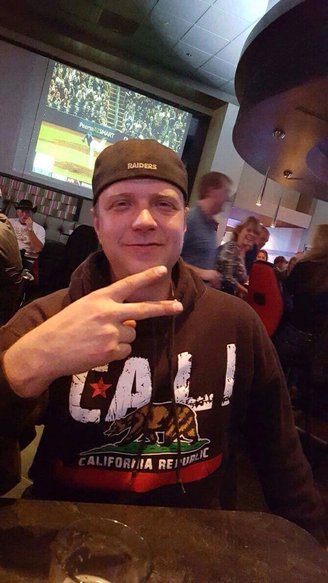 Travis James Baker was born Nov. 18, 1979 in Medford. A longtime resident of McKinleyville, he went to be with his heavenly father on Oct. 26, 2017 at the tender age of 37.

Travis was that amazing husband. He was that one who would work those long hours and yet be happy to come home and cook you an incredible dinner. He would always listen to you and could always make you laugh. Travis and Tasha were best friends, "two peas in a pod," meant for each other, and perfect together.
Travis was that incredible dad who was always there to listen and to talk, and he was great at giving advice. He would make you feel safe and know you could always count on him to be there.
Travis was a good brother, one who loved unconditionally and would always protect and care for his sisters. Through the good times and bad, he would always be there.
Travis was the "greatest brother-in-law." He fit right in with the family from the very first moment. We all knew we would never have to worry about our little sister being in good hands. Travis always treated us like we were his own and showed love and respect. He would help anyone of us out with whatever was needed without any hesitation.
Travis as an uncle. He loved his nieces and nephews with all his heart. They would all tell you their Uncle Travis was "The best uncle ever!" He would spend hours playing catch with his nephews Danyon and Dakari, or be outside teaching the kids how to build things or taking them to the beach. Travis was a great mentor to them all, especially his niece Cathryn. His advice to her was a great comfort; he was her Mac Dre buddy. She knew, like everyone who knew, she could count on him.
Being a man of varied tastes, Travis enjoyed many genres of music. He especially loved that of his Native American heritage, which he would sing and try and teach his nephew Dakari. Travis also loved riding motorcycles, going to the beach, barbecues, spending time with friends and family, cooking, gardening, camping, his many cats, his precious dogs Athena and Shadow, football (especially the 49ers), and helping those in need.
Travis was preceded in death by his father, Gary Baker. He is survived by his wife of six years, Tasha Bonner Baker; daughter, Jade Baker Ave; son, Nathan Guffey of Bonanza, Oregon; mother, Michelle Bergstrom of Springfield, Oregon; sisters Julia Baker of Placerville, California and Talea Hardwick of Springfield, Oregon; brother-in-law William Lupan Sr. of Grants Pass, Oregon; sister-in-law Sheila Bonner of Fortuna, brother-in-law and sister-in-law Charles and Kara Dukes of Rocklin, California; brother-in-law and sister-in-law Brian and Julie Dukes of McKinleyville. The numerous nephews and nieces include: Cody and Dylan LaFranchi, Isaah Flanagan, Xavier,Darius, Dante and Dominic Dukes, Desmond, Jace, Davin, Danyon, Dakari Dukes and Mathias Briggs. Also, nieces Kaylena Johnson, Cathryn and Anastasiya Briggs.
We will be having a memorial service for friends and family on Saturday, Nov,18, 2017 from 2 p.m. to 6 p.m. at Bayside Community Hall — 2297 Jacoby Creek Road, Bayside. We invite all who knew and loved Travis to attend and if you could afford to bring your favorite dish to share that would be wonderful.
Travis was the wonderful man that was loved, is missed, always cherished, and will never be forgotten.
No Farewell Words Were Spoken, No Time To Say Goodbye, You Were Gone Before We Knew It, And Only God Knows Why —- SB.
###
The obituary above was submitted by Travis James Baker's family. The Lost Coast Outpost runs obituaries of Humboldt County residents at no charge. See guidelines here.