Cold snap coming!
The National Weather Service office on Woodley Island warns that a cold air mass is set to hover over Humboldt tonight and tomorrow morning, with high and dry winds bringing the windchill-adjusted temperature into the 20s around the bay and a likelihood of frost in the interior.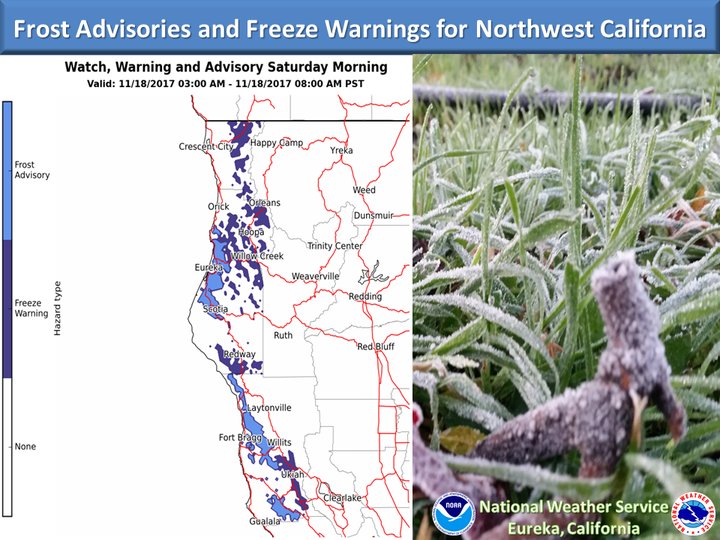 These freezy conditions are currently scheduled to last until Sunday, at which point the rain is supposed to descend. Expect "wet and unsettled" weather between Sunday and Wednesday.
This morning's full forecast discussion from the National Weather Service:
SYNOPSIS…A colder and drier air mass will settle over the region today and hold through Saturday. A front will approach on Sunday, bringing a new threat for rain and strong winds Sunday night and Monday. Wet and unsettled weather will likely continue for Tuesday through Wednesday.

DISCUSSION…Radar was showing isolated rain and snow showers rapidly diminishing early this morning. The forecast for today will feature drier weather conditions and clearer skies as high pressure builds this morning and strengthens through the day. An offshore flow pattern will develop tonight and set the stage for mainly clear skies and chilly overnight low temperatures for much of the forecast area. Guidance continues to indicate temperatures bottoming out in the upper 20s to mid 30s across the interior valleys of Del Norte, Humboldt and Mendocino counties tonight. Trinty county will be colder. The one fly-in-the-ointment will be fog and low clouds that almost always forms in the interior river valleys this time of year after days of rain. Near freezing temperatures are also possible at the coast.

High pressure will hold over the area through Saturday and then start to weaken Saturday night and Sunday. Low temperatures should moderate on Sunday. Forecast models continue to indicate warming aloft and perhaps high and mid cloud spreading over the area in advance of a warm front. Models were consistent with keeping the warm front and rain well offshore through most of the day on Sunday. Models were in slightly better agreement with winds ramping up Sunday night and rain spreading over the area by Monday morning. Another storm will impact the forecast area with strong winds and rain Tue thru Wed. The models were in generally good agreement with the overall pattern, so confidence is high it is going to be wet and windy at times through mid week. The warm/moist nature of these storms will likely keep snow levels fairly high and above all the major passes of northwest California. Folks planning travel next week for the Thanksgiving holiday should stay abreast of the latest forecast.

AVIATION…Showers are forecast to taper off this morning leaving northwest California with mostly clear skies and VFR conditions. The challenge for this forecast period is tonight into tomorrow morning and whether or not fog will develop. Current thinking is that the river valleys will see some patchy fog and with temperatures becoming relatively cold, interior and lower elevation ridgetops may see freezing fog. TAFs do not currently have any fog or mist in them but will probably be added in later updates.

MARINE…Northerly winds and subsiding wave heights will be observed today as a weak ridge takes hold of the forecast. Conditions are expected be relatively calm for the majority of the weekend with light to moderate northerly winds and wave heights around 3 to 5 feet. The forecast becomes more hazardous late Sunday into Monday as a storm system brings increasing southerly winds to the waters. Steep wave heights will rise from these winds and then fluctuate through the work week as additional storms move through our forecast area.

.EKA WATCHES/WARNINGS/ADVISORIES… CA…

Frost Advisory from 3 AM to 8AM PST Sat for CAZ103-109-112.
Freeze Warning from 3 AM to 8AM PST Sat for CAZ102-104>106-113.

NORTHWEST CALIFORNIA COASTAL WATERS…None.