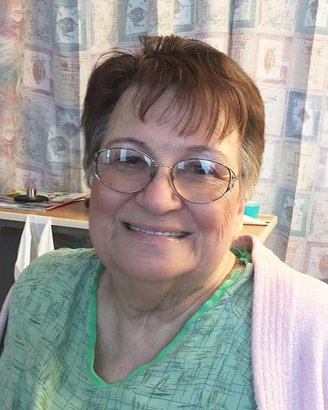 Lorena "Rena" Lillian Simpson left her earthly body on July 22nd, 2017 at 6:30am at the age of 76.

She was born an only child in Laona Wisconsin on August 19th, 1941 to Mathew and O'Deal Krumpos. At the age of 13 she moved with her family from Wisconsin to Larabee Valley, California where she resided until graduating from Fortuna High School in 1959. She married Elwin (Boots) Simpson in 1963 and lived in Hydesville, Carlotta, Rio Dell and Fortuna. They were married 39 years until his passing in 2002. She was a homemaker until her youngest entered kindergarten. She then worked for Fortuna Elementary School, Baileys Wet Suites and babysat several neighborhood children. After a few years she went to work at Redwood Memorial Hospital in the Kitchen and then decided to get her CNA to work at St Lukes Rest Home. She enjoyed working with the elderly there and soon took the position of Assistant Activities Director, which she loved. After working for St Lukes she went back to work at RMH as a CNA working nights. She then semi-retired by working for Visiting Angels and Home Health. She was so good to her patients. They and their families often comment about the wonderful care they received from Rena who was their favorite nurse or caregiver. Rena was treated like royalty when she, herself was a patient, no doubt because of that fact. She'd loved her people and caring for them.

Rena was a wonderful mother, grandmother and friend. To know her was to love her. She loved life, her people and her family and she lived it to the fullest. Of her many interests were sewing, crafting, painting, cooking, eating, dancing and laughing. She sewed for family and friends. She loved planning and cooking for holidays. Dancing! She loved dancing and when The Roadmasters were playing in town, she could be found on the dance floor with her usual dance partners. She really loved a good joke and often told them. Her laugh was contagious. She took such pride in her kids and her grandkids and could not be outdone bragging about them to whomever would listen.

Rena made solid loving friendships that she gained from working at RMH. Her friends were such a big part of her latter life and being older, they cared for each other and were there for each other whenever needed. The last few years of Rena's life, she was in need and her friends were there for her unconditionally! Bonnie Black, Suzie Currie, Suzanne Richardson and Virginia Martin were her closest valuable friends.

A native of Wisconsin, she has loved and treasured family still living there. Aunts and uncles and many cousins, Rena was able to visit her family and her hometown with two of her children in 2014 and '15.

In her later years Rena became more vocal about her appreciation for the male gender. She joked that she was a Cougar would flirt and tease the male nurses and doctors she had. Always a flirt, with a twinkle in her eye she said, "I will get a kiss, you just wait and see" from her last male Hospice nurse. Don't doubt that she probably did get that kiss.

Rena was preceded in death by her husband Boots, and parents Matt and O'Deal. She is survived by her three children Tiffany (Darin) Thomsen, Stephanie (Xeff) Simpson Scolari and Matthew (Jessica) Simpson, her adopted daughter Tina Berns (& Daniel Delbiaggio), two grandchildren, three step-grandchildren, and several nieces and nephews whom she loved like her own children and grandchildren.

The people at Redwood Memorial Hospital, St. Joseph Hospital, Cardiology, Oncology, Eureka Rehab and Wellness (Jenifer Larue), Redwood Renal Associates (Dr. Mathew and Amanda), Restorative Care (Gina Dusi & Dr. Elizabeth Giles), Home Health and Hospice of Humboldt were all exemplary in Mom's care.

A celebration of life will be held at a later date. Friends and family will be included.