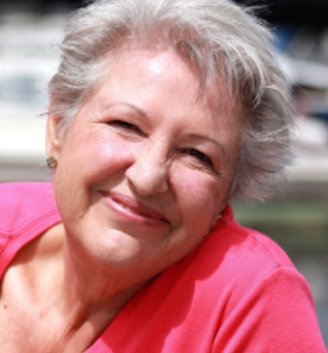 Rita Marie Rogers transitioned to her next journey on November 1, 2017 with her son Miles at her side. It seems fitting that she passed on All Saints Day, because to many of us that is exactly what she was, a saint. On that day you were given wings to soar even higher than you ever have.
Rita was born on December 7, 1943 to George and Iona in Lebanon, Oregon. The family moved to Humboldt County and Rita graduated from Trinidad Grade School. Rita did so well in school that her mother thought she was exceptionally intelligent and sent her to live with her Aunt Marg so she could enroll in Mount Angel High School, she was there for three years. She returned to Arcata and graduated from Arcata High. Always an adventurer!
After high school, Rita moved to San Francisco to continue her education and begin working. This is where Rita met Miles Sr. Soon they were transferred to Portland, Oregon. This is where her first son Miles was born. After the end of that marriage she returned back to Arcata, where she began her company called Rogers Consulting. During this time her second son Jeremy Coleman was born. Again, always one for adventure, she moved away to the city of Concord, where she finally settled in. She began her new company Rogers Accounting, Computer Consulting.
While in hospice, a music therapist came into the room and asked all of us to say one word that describes Rita. These were the words; loving, compassionate, stubborn, seeking, understanding, adventurous, spiritual. All of these words shall carry on through her family and loved ones.
Rita was truly a spiritual person, she found her calling through the Church of Religious Science, Now called The Center for Spiritual Living. Over the years she became a Reverend, she was able to marry her Son Jeremy to his wife Rain and her Niece/Daughter Yvonne to her husband Jeff. May their love carry on. A friend wrote that they truly appreciated her activism towards social issues.Another practitioner said that she instantly liked her feisty attitude and powerful way. They may have butted heads a few times but always walked away still loving each other. A friend she had met at church said Rita reached out to her in such a special way becoming her mentor, friend and eventually a colleague in ministry. They spent many hours serving on various committees, 'Practitioner Leadership,' Loving Service', teaching and co-teaching together the principles of the science of the mind.
Another friend wrote of the last memory of Rita; she was about to walk on the stage last May to give a speech and Rita could feel her nervousness and even through her own pain, "she grabbed my hand, as my own mother would, she helped me center myself and the tears streamed down my face.I felt so loved and supported, you were present for me, as I believe you will continue to be for so many others."
Another friend wrote that Rita was a no nonsense kind of woman,who quickly,lovingly got to the core of the issue with her spiritual wisdom,and encouraging others to find and embrace the perfect answer to a concern. Another of Rita's many service positions was at Walnut Creek Police Department, as their Chaplain. She always gave of herself in numerous ways to both the victims and the Officers. Many have mentioned her adventurous spirit. It was not surprising to see her hop in her motorhome and take off on another journey.
A woman wrote about one of these exceptional escapades. She met Rita at Camp Red Lighting at Burning Man. Her son Miles builds the "Talks to God" booth there. So we all called her Mother of God. Which is such a fitting name, she was the most giving,loving, nurturing person, with the most contagious smile. She will be so greatly missed but we know her spirit will live on.
Rita's "daughter-in-love" Rain, wrote a very special message, "Rita, you gave me the greatest gifts, your son and in turn our baby girl, your grand daughter Collette. I am so thankful to have had you in my life, although not long enough. I am glad we were able to share the joy of Collette with you. I'll make it my mission to tell her all about you her favorite grandma as she grows. May you rest in peace now free from pain and be all around us forever more. I love you my mother in love."
My name is Yvonne, Rita's niece/daughter. I was given the honor of writing this. along with many of you I am in deep mourning. Rita and I shared everything, now I need to remember her words and live by them, this is going to be my hardest experience, I am thankful that I have her sons to help me in the difficult times.
Rita is survived by her mother Iona Ross, brother Jerry Ross and wife Darrah, son Miles Eastman, son Jeremy Coleman and his wife Rain, and granddaughter Collette Soleil Marie Coleman, Yvonne Guido and husband Jeff, Aunt Marg and husband Fritz, many other nieces, nephews, cousins, along with many others that she has considered family
Rita was proceeded in death by her father George Rogers, brothers Tim Ross and Larry Ross, and Nephew James Fawcett. Our family would like to thank the Bruns House and all of their staff for their compassion, caring and kindness during Rita's transition.
Celebration of life to be held; Oakland Center for Spiritual Living, 5000 Clarewood Dr., Oakland, CA 94618, at 1 p.m. on December 16th, 2017. Reception to follow.
"This is love: to fly toward a secret sky, to cause a hundred veils to fall each moment. First to let go of life. Finally take a step without feet." -Rumi
###
The obituary above was submitted by Rita's family. The Lost Coast Outpost runs obituaries of Humboldt County residents at no charge. See guidelines here.