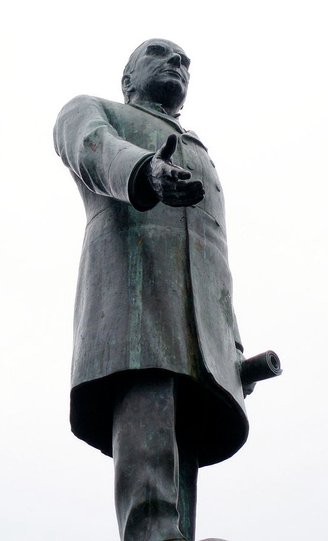 America spent much of the last summer grappling with the meaning of its historic monuments, reckoning with their legacy and debating their future. Now — not for the first time — that debate is coming to Arcata.
On Monday evening, the Arcata City Council will host a community study session at the D Street Neighborhood Center to talk about two pieces of public art that have occasioned controversy over the years — a plaque that designates the Jacoby Building as a historic landmark and, of course, the statue of President William McKinley at the center of the town plaza.
According to Karen Diemer, Arcata's city manager, the meeting came at the behest of the City Council, and is intended provide some historical background on both the statue and the plaque, and to take the pulse of the community on the issue.
Arcata has, on many occasions in the past, debated the appropriateness of the McKinley statue, a gift to the city from early businessman George Zehndner, a fan of the assassinated president. Later generations not thrilled by McKinley's imperial legacy — as president, he led the United States into the Spanish-American war — have often called for its removal.
Diemer said that Monday's study session will look at various options that previous city councils have discussed in the past — leaving the statue as-is, building interpretive signage that would place it in historical context, moving it to another part of the Plaza or another part of the city, or getting rid of it outright. There will be small-group sessions to discuss these options and related matters and to brainstorm other possible actions. At the end of the meeting there will be a sort of a straw poll to gauge the mood of community members at the meeting.
The group will also look at the plaque at one corner of the Plaza that commemorates the Jacoby Building as a state historic landmark, and which contains some anachronistic language that refers to the building as a "refuge in time of Indian troubles." (See full text of the plaque here.)
Both items are under fire. A Change.org petition titled "Remove the McKinley Statue and the racist plaque from the Arcata Plaza NOW!" has over 1,300 signatures at the time of this writing. But Monday's meeting won't result in any official action — neither to remove the offending items or to leave them as-is, nor anything in between. It's a first step to get the discussion at the level of city government.
The special City Council meeting will be held at the D Street Neighborhood Center — 1301 D Street, Arcata — on Monday, Dec. 4, starting at 5 p.m.
###
DOCUMENTS: