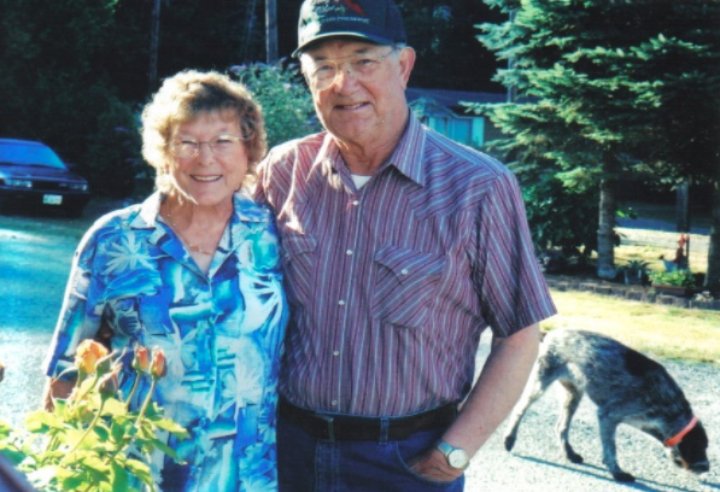 Charles Eugene Bleything left this earth at 1:20 pm on October 28, 2017. He was Charlie, Dad, Grandpa, Chuck and Mr. Bleything all rolled into one awesome person.

Chuck was born in Chico, CA on February 27, 1933 to Anna and Charles A. Bleything. They moved to Eureka when Chuck was very young. He went to local elementary schools and graduated from Eureka High School in 1950.
After high school he started his journey to becoming a music teacher at Humboldt State College. While he was in college, he played in a quartet called 'The Footnotes' at the old Big Four Restaurant. Every night after the quartet finished their gig; Chuck would bring home with him soups, ravioli's, apple fritters, and french bread or anything that the cook had left over from the evening.
The Korean War was brewing during the 50's and Chuck was drafted into the army where he was stationed in Germany playing in the army band.
After the war, Chuck was lucky enough to have a teaching job waiting for him when he returned home. He taught music for the next 15 years at McKinleyville Elementary School.
Chuck married his soul mate, Lynn, in the summer of 1965. From a previous marriage both Chuck and Lynn had a total of seven children. On the weekends the family dinner table was quite crowded with the laughter and love of 11 people. During these years Chuck decided to get into administration so that he could retire early. So for the next 10 years or so, Chuck worked for the County schools office, that allowed him to retire at 55.
Chuck taught us so much. The real love of music. How to ride a motorcycle. How to appreciate nature with camping and fishing and water skiing. We also had a brief time appreciating autocrossing and hill climbing by watching Chuck and Lynn race Porsches.
When the kids left home and there was just Lynn and Chuck, they decided it was time to do some real traveling. They sold everything, bought a trailer and were off. They traveled to Europe several times, they went hunting in Williams during the Fall and fishing in Oregon during the spring and summer months. They centrally located themselves in Calpella, and continued to follow the season's until they decided that they wanted to spend the last years of their lives in Gold Beach, Oregon.
Chuck leaves behind daughter Pam Nowak(Tom), daughter Kris Bleything, son Russ Bleything(Dorothy), step-son Steven A. Borowski(Diane), step-daughter Rae M. Bott(Bruce), step-daughter Debbie Christenson(Rod)and step- daughter Helen McCaughan(Dennis). He also leaves grandchildren Michael Christenson(Amanda), Matthew Christenson(Marisa), Brandon Bott, Carson Bott, Nick Borowski(Julian), Vincent Borowski, Amy Borowski, Tambra Bleything, Talesa Bleything, Hannah Mae and great grandchildren Kaeden, Noah, and Bailey.
There was never a better father, friend, or teacher. We were very lucky to have Chuck in our lives. We will miss his spirit, his laugh and his good humor. We love you Chuck. You are now with Lynn and will be forever and ever.