Are you ready for some weather?
The National Weather Service office on Woodley Island forecasts a 100 percent chance of rain today throughout the region, and in pretty decent amounts. The storm is expected to hit Eureka sometime after 10 a.m., and should dump up to an inch of rain around Humboldt Bay, and more than that in the hinterlands.
More than that, though: Winds. It's gonna be a windy one.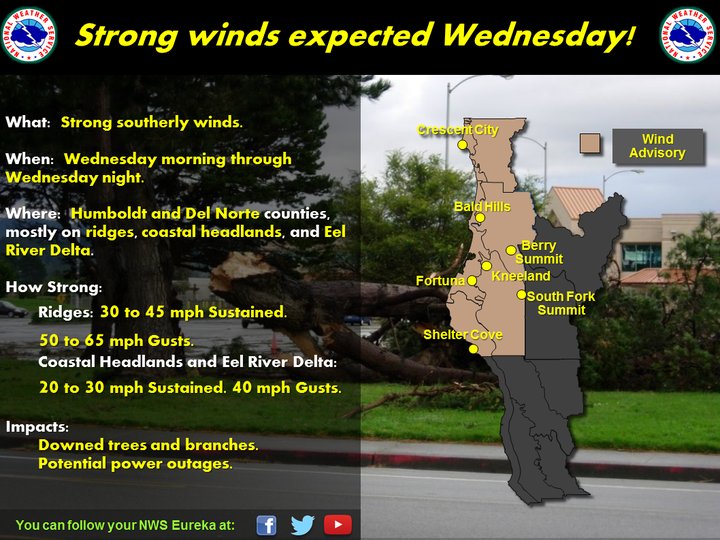 Keep your flashlights close and watch yourself on the roads! It's probably going to get a little nuts out there. We'll try to keep you up with the latest outages and such.
Mariners: There are gale warnings and small craft advisories in effect and upcoming. See below.
The Weather Service's seven-day forecast calls for much more of the same over the next week, with a small respite of clear skies on Saturday. Here's the forecast:
AREA FORECAST DISCUSSION National Weather Service Eureka CA 500 AM PST Wed Nov 8 2017.

SYNOPSIS…A strong storm system will bring robust south winds and periods of heavy rain today. Wet weather will continue through the end of the work week with high pressure bringing a dry start to the weekend. && .

DISCUSSION…South winds began to increase on cue early this morning as Kneeland observed 45 mph wind gusts and Ship Mountain (at 5121 feet) observed a 58 mph gusts. The wind advisory remains in effect as winds will continue to increase with the approach of the cold front. Some light radar reflectivity were also observed early this morning although with little to no rainfall observed. Lighter, warm frontal precipitation will be possible through the morning hours with the main band of rain arriving to the coast around noon. Rainfall will be heavy at times through this afternoon and evening. Expect 1 to 2 inches of rain across the mountains of Del Norte, Humboldt, and northern Mendocino counties. 0.75 to 1 inch will be possible elsewhere in Trinity and southern Mendocino counties.

The Humboldt Bay area can expect some lower totals (0.75-1 inch) than surrounding areas with the robust southeast winds causing a rain shadow effect. Both the rain and wind will result in varying impacts across the region including downed limbs, debris in roadways, possible rock slides, and potential ponding water with heavier rains. All of these will make driving difficult so be cautious of the inclement weather while traveling and slow down to avoid potential hazards.

Another front associated with this storm will prolong rain on Thursday with more showery conditions for Friday. This can bring additional 1 to 2 inches with local 3 inches to the mountains and 0.50 to 1 inch elsewhere. Snow levels will fall as the upper trough tracks over the Pacific Northwest Thursday but warm and moist air quickly moves in behind the trough. This will result in snow levels really only falling to 5500 feet which means the only snow impacts will be primarily in the Trinity Alps. Building high pressure will bring a dry start to the weekend with another storm expected to bring a return of wet weather Sunday into early next week.


AVIATION…Clouds will continue to gradually lower today. However, ceilings may remain above 3000 feet through most of the day due to the strong S winds down the terrain. Returns are already showing up on radar, but most of the rain thus far has been virga and not reached the ground with perhaps a few sprinkles here and there. Expect rains to increase later this morning, eventually making it to KUKI by afternoon. S winds are increasing along the Redwood Coast. Gusts to 35 knots are likely at KCEC by late morning or early afternoon, with gusts over 30 knots at KACV and near 25 knots at KUKI. Have continued to indicate low-level wind shear. With the gusty surface winds and general uniform direction, the shear will be marginal and more significant during lulls in the surface winds. Higher winds are expected across higher terrain, with gusts over 60 knots along exposed ridgetops. After a brief wind decrease later this afternoon, winds will pick up a bit during the evening hours. These winds will finally start to diminish later tonight and on Thursday.

MARINE…S winds continue to increase across the coastal waters early this morning. A 052OZ ASCAT satellite pass indicated gale force winds about 90 NM west of our N outer waters, and gales have likely spread into that zone as of this writing. Winds at the coastal buoys have been steadily increasing over the last several hours. Marines headlines appear to be on track, and no changes were made for this package. Winds should max out around midday today with occasional gusts to near storm force possible over the N outer waters extending to near Cape Mendocino. After subsiding a bit late this afternoon and evening, another burst of S-SW winds is expected late in the evening with more gusts of at least 30 knots over the N waters. Winds and seas will subside on Thursday and Friday. S winds will increase again late on Sunday. /SEC && .EKA

WATCHES/WARNINGS/ADVISORIES…

Wind Advisory from 10 AM this morning to 9 PM PST this evening for CAZ101-103

Wind Advisory until 4 AM PST Thursday for CAZ102-104>106.

NORTHWEST CALIFORNIA COASTAL WATERS…

Small Craft Advisory until 9 AM PST this morning for PZZ450.

Gale Warning from 9 AM this morning to 10 PM PST this evening for PZZ450.

Gale Warning until 6 PM PST this evening for PZZ470-475.

Small Craft Advisory until 6 PM PST Thursday for PZZ455.