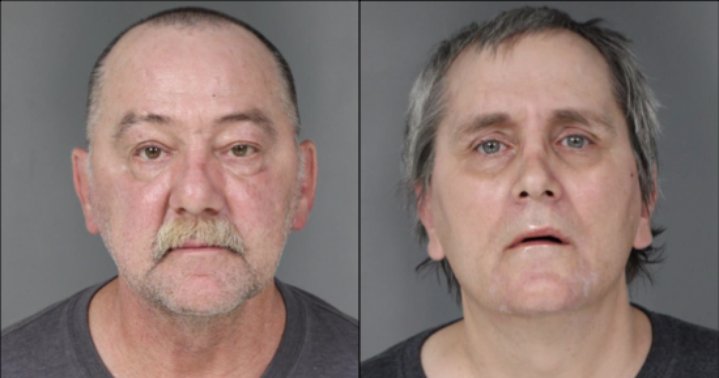 Humboldt County Drug Task Force press release:
On Monday, October 16th at approximately 10:00 A.M. Special agents with the Drug Task Force served a search warrant on a hotel room located in the 1100 block of 5th Street in Eureka. When the agents arrived they located the subjects of the investigation, 59-year-old Randy Kobici and 53-year-old Larry Seminoff.

A search of the room yielded evidence of narcotics sales, including packaging materials, pay and owe sheets and 94 suboxone strips. Randy and Larry were arrested and booked at the Correctional Facility for possession of a narcotic for sale and maintaining a residence for the purposes of distributing narcotics.

During the investigation, agents learned Larry and Randy had contacted a supplier and requested more narcotics. At around noon Agents located the supplier, identified as 44 year old Matthew Arnold parked in a vehicle in the Burger King parking lot off of 5th Street in Eureka. Matthew was found to be in possession of approximately two ounces of suspected heroin. Agents also located Matthew's girlfriend, 24-year-old Allison Strout in the vehicle. She denied any involvement in the sales of the narcotics but admitted she knew Matthew was selling heroin.

Matthew and Allison were placed under arrest for possession of a narcotic, possession of a narcotic for sale and transportation of a narcotic. They were transported to the Correctional Facility for booking. Once at the Correctional Facility, Correctional Deputies located a bag of suspected methamphetamine inside Allison's bra. The suspected methamphetamine had a gross field weight of 10 grams. Allison was also charged with bringing a controlled substance into a correctional facility.

Anyone with information related to this investigation or other narcotics related crimes are encouraged to call the Humboldt County Drug Task Force at 707-444-8095 or the Humboldt County Sheriff's Office Tip Line at 707-268-2539.