A Southern Humboldt man who led police on a bullet-riddled chase through downtown Eureka has been found mentally incompetent to stand trial.
This morning visiting Judge David Herrick suspended criminal proceedings against Clayton Lee Lasinski after his attorney, Deputy Conflict Counsel David Lee, said a psychiatrist who examined Lasinski determined he "is incompetent to proceed."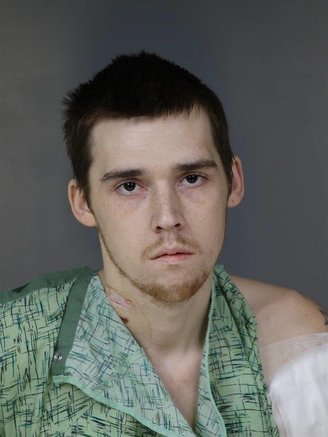 Herrick, at the request of Deputy District Attorney Luke Bernthal, appointed another doctor to evaluate Lasinski and offer a second opinion. Bernthal said Lasinski has a history of criminal behavior and was found competent in the past.
Lasinski has been in jail for about 10 months, and this is the first time the issue of mental competence has been raised. But at the time of his arrest, Lasinski reportedly explained he thought pursuing officers were some gang members who had recently robbed him.
During the pursuit Lasinski allegedly stole a car, pointed a gun at witnesses and officers and attempted to carjack a second vehicle on Sixth Street. Eureka police fired about 40 rounds at him but he was hit only once in the chest. The chase ended when he finally collapsed in the street.
Lasinski's gun was lying next to him, with eight rounds in the magazine but none in the chamber. It was determined he never fired the weapon, though the safety was off and the hammer cocked. The gun had been stolen from a Trinity County home a couple of months earlier.
If convicted of all charges, Lasinski could be sent to prison for more than 50 years.
Herrick set a date of Nov. 2 for review of the second doctor's report. Lasinski's jury trial had been set to begin next month.
###
PREVIOUSLY: