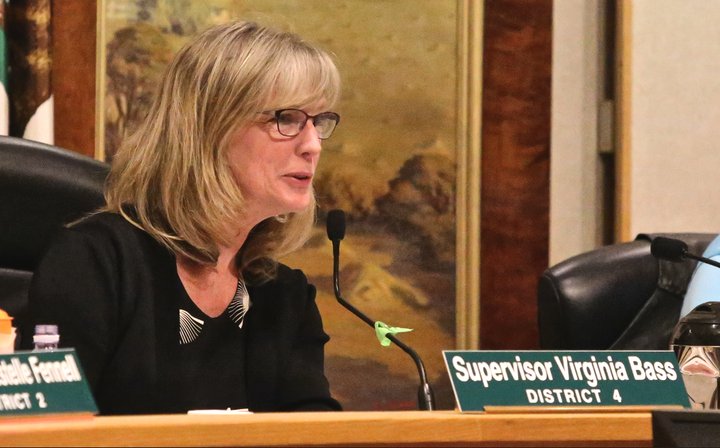 Fourth District Supervisor Virginia Bass, who has represented most of the city of Eureka and some of the surrounding area since 2010, today officially announced that she will seek a third term on the Humboldt County Board of Supervisors next year.
In a press release this afternoon — and presumably again Tuesday evening, when she'll have an in-person event at the Eureka Women's Club — Bass touted her efforts and accomplishments in eight years on the board, ranging from solutions to homelessness to a commercial cannabis framework to "job creation." See below.
Though at least a couple of names have been bandied about, no one has yet officially come forward to challenge Bass on the June 2018 ballot. Up in the Fifth District — the other Supervisorial seat up for grabs in this election cycle — Steven "Sungnome" Madrone has announced that he will run against two-term incumbent supervisor Ryan Sundberg.
From the Bass for Supervisor Campaign:
Humboldt County Board of Supervisors Chairwoman Virginia Bass announced today she's seeking re-election to the Humboldt County Board of Supervisors in the June 2018 election. She will kick off her re-election campaign next Tuesday, October 24th at 5:15 pm at the Eureka Woman's Club, located at 1531 J Street in Eureka and the public is invited.

Bass highlighted some of her accomplishments during her most recent term in office, including efforts to address the issues of homelessness, provide affordable housing for low-income seniors, and facilitate job creation and economic development. Supervisor Bass also supported efforts to establish a regulatory framework for cannabis cultivators and related industries in an effort to encourage them to come into compliance after voters passed Proposition 64, which will allow for the recreational adult use of cannabis beginning 2018.

On the issue of homelessness, Supervisor Bass established the Community Homeless Improvement Project (CHIP) in partnership with the County of Humboldt and the City of Eureka, bringing stakeholders together from the non-profit, law enforcement and local government sectors to collaboratively confront the homeless issue. This led to the creation of the Mobile Intervention Services Team (MIST), combining social workers with law enforcement on our streets to address mental illness amongst the homeless population and connect those people to the needed services.

Supervisor Bass also facilitated efforts to provide affordable housing for low-income seniors and homeless residents through the development of "The Lodge", an infill development in close proximity to public transit and other services in Eureka. In an effort to strengthen our local economy, Supervisor Bass has been a steadfast supporter of local small businesses. She spearheaded efforts to allow underutilized properties zoned for coastal dependent industry to be repurposed on an interim basis for other uses along the Samoa peninsula, ensuring the revitalization of those properties and surrounding infrastructure.

"It's an honor to represent the residents of Humboldt County as your 4th District Supervisor. It's important that we work together to find collaborative solutions to the problems that affect us all. I couldn't do what I do without my fellow Board members, our great staff, the City of Eureka and public input. I will continue to address the homeless issues, provide affordable housing for our low-income residents and increase job creation through common-sense reforms that help our local small businesses," Bass said upon announcing her re-election bid. "Yet at the same time, I want to leverage my experience and knowledge as your County Supervisor and a representative for regional and statewide organizations to bring more solutions, resources and dollars to Humboldt County to protect our environment, support local job creation and increase our supply of affordable housing. We will continue to make inroads with the mental health, addiction and homeless issues. I look forward to continue listening and meeting with residents to hear your concerns within your own neighborhoods and our county as a whole," Bass added.

Supervisor Bass currently serves in numerous countywide, regional and statewide posts, including the Board of Directors for Humboldt County's Local Agency Formation Commission (LAFCO) and Redwood Region Economic Development Commission (RREDC). Supervisor Bass is also the 2nd Vice President for the California State Association of Counties (CSAC), the 1st Humboldt County female representative to ever hold the position, and the 1st Humboldt County official to serve as an officer with the organization since 1940.

Virginia Bass is a lifelong Eureka resident. She currently represents Humboldt County's 4th Supervisorial District, which encompasses most of the City of Eureka and the unincorporated coastal peninsula communities of Fairhaven and Samoa. Supervisor Bass formerly served as a Eureka City Councilmember and Eureka Mayor prior to being elected to the Humboldt County Board of Supervisors in 2010.