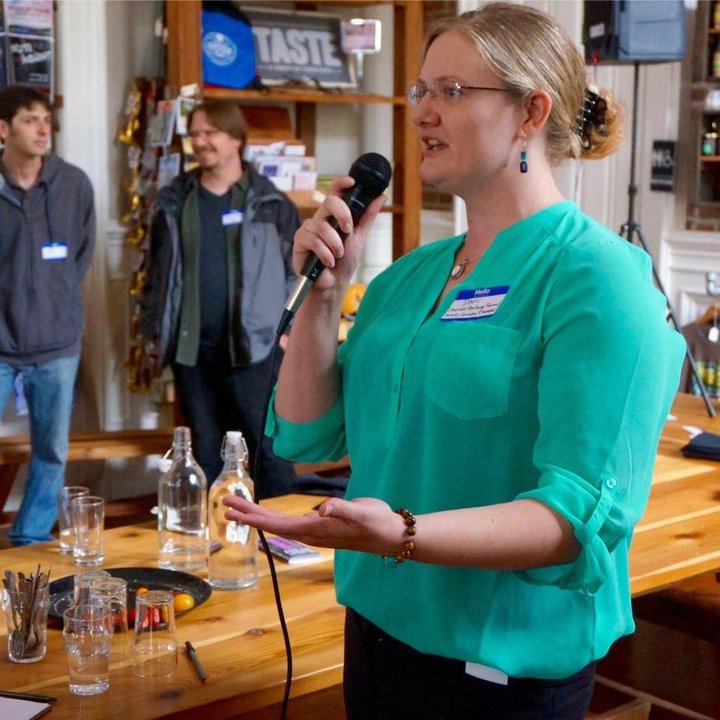 Weed industry activist/consultant Dani Burkhart is getting ready to launch her campaign for Humboldt County supervisor, challenging two-time incumbent Virginia Bass in the Fourth District. This afternoon she released an announcement video (below) and unveiled her campaign website, dani4supervisor.com.
"I'm ready to do more and ready to be part of the change," Burkhart told the Outpost moments after dropping her campaign-launch email.
A 2013 HSU grad with a degree in environmental science, Burkhart soon got involved with the weed-industry lobbying group California Cannabis Voice Humboldt (CCVH), where she worked first as an office manager and later as assistant executive director, according to her LinkedIn profile.
She got a taste of politics back in 2015 when CCVH helped organize a tour of a SoHum pot farm for Lt. Governor Gavin Newsom, Congressman Jared Huffman and Board of Equalization Chair Fiona Ma, among others.
Burkhart later founded Emerald Heritage Farms, a cannabis consulting business that helps aspiring weed entrepreneurs come into compliance with state and local regulations. She's also on the board of directors for the Humboldt Cannabis Chamber of Commerce and vice treasurer of the Humboldt Democratic Central Committee.
Asked how she would be different than Bass, Burkhart said, "I'm looking at more of the holistic picture. I'd be more proactive, working on long-term policies rather than being reactive with short-term policies."
She said her involvement in the cannabis industry doesn't necessarily influence her perspective, though it does provide "an inside look into what's going on on the ground."
She plans to hold a kickoff event Sunday, Nov. 5 at Eureka's Loheide Building, which was recently renovated as a visitor's center, with plans to add a weed dispensary.
Here's her campaign press release:
EUREKA, Calif. — Dani Burkhart, a local consultant on land use entitlements and business compliance, is running for the 4th District Supervisor seat in 2018. Her educational background and understanding of Environmental Science and Economics, along with her experience in community organizing with the Humboldt County Democrats and other local groups, are just a few of the reasons her supporters are excited to help launch her campaign on November 5.

Dani Burkhart's kick off event will be Sunday, November 5 from 2 p.m. to 5 p.m. at the beautifully restored Loheide Building, 107 5th St., in her home district of Eureka.


"I think we can all agree that Humboldt is facing real challenges that need long-term solutions. We need leaders who will face our problems head on with a conscious, deliberate and determined effort," Burkhart said. "I am running because I want to see the greatest good happen for the greatest number of people in our community. Many of our friends and family feel hopeless about the future of Eureka and the county, and I want to see that gloom lifted. We are ready for a better future."

Burkhart grew up on the North Coast and is a proud alumna of Humboldt State University. She writes policy recommendations on the county and state level on a variety of important, detailed issues. She has previously organized events and tours with various government agencies and community stakeholders in Humboldt County.

"As the Vice Treasurer of the Humboldt County Democrats, volunteer board member of the Humboldt County Cannabis Chamber of Commerce, a community activist, and a local business owner, I have seen what amazing things we are capable of when we work together," Burkhart said. "The time for our community to work together is now, and I will dedicate myself to this principle when elected."

Come to Dani Burkhart's Campaign Kickoff to meet the candidate and show your support at the Loheide Building on Sunday, November 5! Already a supporter? Make your donation today at P.O. Box 5062, Eureka, CA 95502. From $5 up to $1,500, your contribution can make a difference for the future of our county.

Keep up with the election and follow Dani Burkhart 4 Supervisor 2018 on Facebook!