A drive down Rio Dell's central Wildwood Avenue will henceforth be quite a hoot. Deal with that.
Today local artist Dan McCauley erected the first of several planned public art displays aimed at sprucing up the Eel River Valley hamlet's main drag. Behold! An owl! And then read more about it in the City of Rio Dell's press release farther down: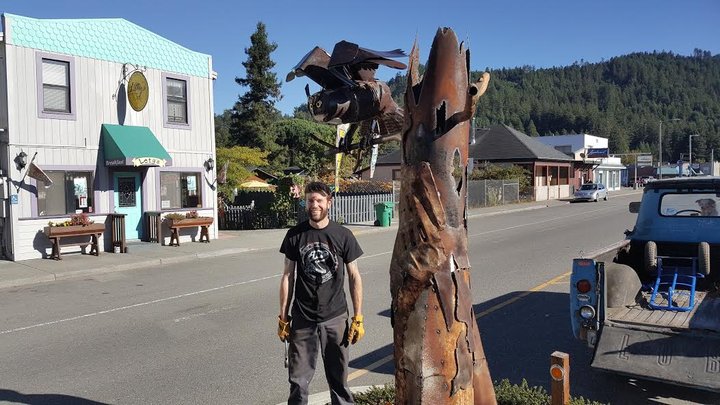 Artist Dan McCauley and his Great Horned Owl
Humboldt County artist Dan McCauley installed his first piece of artwork in the City of Rio Dell on October 24, 2017 as part of a long‐held plan to develop public art along Wildwood Avenue. McCauley worked with the City's Sculpture Committee, Chamber of Commerce and City Council for months to realize his vision. The installation will be the first of at least four sculptures displayed publicly that present a wildlife theme. McCauley's first display is of a Great Horned Owl ready for flight from a burnt tree. Future sculptures will include a Mountain Lion, Bull Elk and a Grizzly Bear in action and the art displays will change over time as part of a 5‐year agreement to display art along Wildwood Avenue.

The art program was made possible by generous donations from Pacific Gas & Electric, The Headwaters Fund, McClain Foundation and local Rio Dell business Root 101 Nursery. The funds ensure placement of four sculptures over a five year period and will rotate over time as interested buyers purchase the artwork from Mr. McCauley.

More of McCauley's work can be seen at danscustommetals.com.