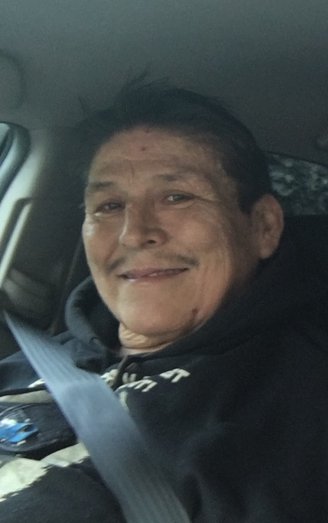 Harold Joseph Blake III, OT, passed away at his home on Orchard Road in Hoopa on Monday, October 23, 2017.

He was born August 25, 1963 to Hearldine Campbell and the late Harold "Butch" Blake. He spent most of his life in Hoopa and the surrounding areas. He lived in Washington at Hoh River and Port Angeles for a time during his adolescence.

Fishing and hunting were his passion. He was knowledgeable of cultural practices of fishing, hunting and gathering. He worked in the woods on brushing contracts in Hoopa, and as a beekeeper in Yreka. He took any task very seriously and learned everything he could about it. He didn't complete high school or get any formal skills training, but he knew how to read. I remember as an adult asking him, "How do you know about that?" Whatever it was, it was something that impressed me. He'd say, "I read about it, aunty." He was two years my junior.
In his 54 years he faced many obstacles but always persisted. As a child he had a kidney removed, and then he was back to playing again. Years later he was floating down the Trinity River with his uncle, Tommy. We dropped them off with their tubes for a day on the river. It was right around Supply Creek that a group of otters came out swimming around them and he got surrounded and they bit his tube and bit him. He ended up having to get the rabies shots series in his stomach. And then he was okay and everything was back to usual for us kids.
In his later life, one night, he was attacked and brutally beaten unconscious; we thought we lost him then. He was in the hospital for a long time and faced rehabilitation after that. He came home, staying with family as he needed to and that didn't suit him. He wanted his own place. Then he got into House #79 on Orchard Lane in Hoopa. He enjoyed spending time with his friends and family. He will be dearly missed by his friends and family.
A wake will be held on Friday, Oct. 27, beginning around 7:30 p.m., at a private residence on Pine Creek Road. Services on Saturday, Oct. 28 at 11 a.m. at a location to be determined. Interment to follow in Hoopa.
###
The obituary above was submitted by Harold Blake's family. The Lost Coast Outpost runs obituaries of Humboldt County residents at no charge. See guidelines here.