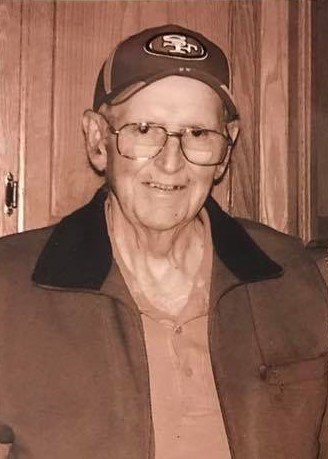 Rodney Orman Edeline
Nov. 18, 1931 – Sept. 30, 2017
Ferndale, California
Rodney peacefully passed into the loving arms of Jesus this past Saturday, Sept. 30th, just shy of his 86th birthday, and with family by his side at Granada Rehabilitation and Wellness Center. Rodney's parents were Orman and Dorothy Edeline, and he is survived by his wife of 64 years, Marlene Edeline, his four children – Roxanne Cook (William), Julianne Bishop (William), Clayton Edeline (Brenda), and Cezanne Cady (Alan) – 11 grandchildren, 15 great-grandchildren, one great-great-grandchild, and his four siblings – Marilyn Magnuson (Roy), Wendell Edeline (Pierette), Carolyn Simmons (Dave), and Beverly Wood (Walter).
Born and raised in the pastures of Grizzly Bluff, Rodney graduated from Ferndale Union High School in 1950. He was a proven athlete and musician, competing in tennis and playing the alto saxophone in the high school band.
Upon graduating high school, Rodney quickly enlisted in the army to fight in the Korean Conflict. Anyone who has ever heard Rodney tell the story of his time in the military will recall that he received a "dear John" letter from his then-girlfriend, Marlene Cook. At that, Rodney told his 1st Sergeant to, "…put me on the front line." Getting his wish, Rodney became a forward observer for the artillery and served his nation gallantly. On one such occasion, Rodney and his radio operator, Lopez, held their position in the face of danger, calling in suppressive fire until the last possible moment and allowing his platoon to escape an overwhelming Chinese advance.
When he was finally called home to his station at Camp Hanford, Richland, Washington, SFC Rodney Edeline was awarded the Bronze Star…and Marlene's heart. After three long years, he married his beloved "Molly Darl'in" on June 7th, 1953 at the Kennewick First United Methodist Church in Kennewick, Washington.
Returning from war, Rodney took up the professions of a dairyman and logger back in his hometown of Ferndale, and later acquired the No Brand Burger Stand. It didn't take long for him to transform the local stand into a famed roadside eatery – serving up the best burgers, milkshakes, and fries west of the continental divide.
Rodney was a man with a serving heart. That was demonstrated not only by the generosity and love he showed to his family and friends, but also by his involvement in the community. Rodney was active in the FFA as a youth, was a member of the Veterans of Foreign Wars, a member of Our Savior's Lutheran Church for many years, and also attended Ferndale Community Church for the latter part of his life.
His passions included cooking, tending his flower and berry gardens, cheering on the San Francisco 49ers and, of course, supporting his hometown Wildcats. He also enjoyed playing board games with family and cards with close friends. No matter the situation, Rodney could be counted on to apply witty, lighthearted jokes to every conversation. Although Rodney's interests, deep laughter, and comfort food will be remembered for years to come, his legacy will forever be defined by the loyalty and honor he showed to his country and family. He will be dearly missed, but his memory remains in the hearts of his loved ones.
Sincere thanks to Clayton, Brenda, Sherrie, and Susan for taking care of Marlene during Rodney's time in Granada Wellness.
A funeral service will be held Sunday, Oct. 8 at 3 p.m. at Ferndale Community Church, followed by a memorial with full Military Honors at Ferndale Cemetery. A reception will also be held after the memorial at the Veteran's Building. In lieu of flowers, donations may be given to:
American Diabetes Association
1900 Point W Way #212
Sacramento, CA 95815
(916) 924-3232
Dementia Society of America
180 Steuart St #193636
San Francisco, CA 94119
(800) 336-3684
Alzheimer's Association
2290 N 1st St #101
San Jose, CA 95131
(408) 372-9900

###
The obituary above was submitted on behalf of Rodney Edeline's family. The Lost Coast Outpost runs obituaries of Humboldt County residents at no charge. See guidelines here.