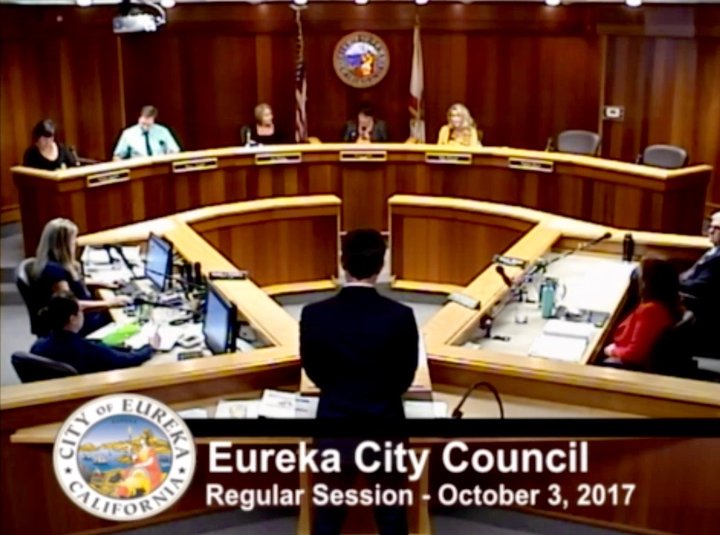 The age of legal weed-for-fun is almost upon us here in California, and last night the Eureka City Council voted to welcome the nascent industry to the county seat. In a unanimous vote, the council directed staff to amend city code and local coastal plan to allow a wide variety of commercial cannabis businesses, including testing labs, volatile manufacturing facilities, distributors and retail shops.
Staff will largely accomplish that by erasing the distinction between medical cannabis and adult use cannabis in the city code.
The council wrestled with a few decisions, including the matter of whether or not to implement a cap on the total number of retail shops allowed in city limits. The Eureka Planning Commission (a more conservative body than the current council, generally speaking) had recommended limiting the number of medical dispensaries to six and banning recreational retail shops altogether.
Back in June, Development Director Rob Holmlund had also recommended outlawing adult use retail shops, but the council disagreed and directed staff to allow them.
At last night's meeting, staff opted to go with the staff recommendation on this matter, which was to completely remove any upper limit on the number of dispensaries/retail shops and instead implement a system whereby the council can approve no more than two retail permits every six months. Councilmember Kim Bergel said this system will function as "a check valve," slowing the growth of these businesses to a trickle and allowing the council to stop issuing retail sales permits for whatever reason.
"Any time we think it's not working we can say we're done," Bergel said.
Another sticky issue was a staff recommendation to prohibit people with kids in the house from growing their own (for non-medical use). The Planning Commission also suggested such a ban, but council members questioned the logic.
"What's the difference between parents making beer or wine in their home [and growing cannabis]?" Bergel asked. "Is it because people are terrified their kids will become pot-heads?" Later in the meeting she returned to the topic. "I don't understand why we'd allow someone to have processed bud but not grow a plant," she said. "I don't understand why that's an issue."
"I don't know that it is an issue;" Holmlund responded. "it's just what we wrote." There was some laughter in the crowd at that answer.
Councilmember Natalie Arroyo agreed with Bergel, saying she thinks it's a parent's responsibility to lock up their grow operation. "That's plenty," she said. "It's the job of parents."
Ultimately the council voted to remove the 21-and-up requirement for personal use cultivation, requiring instead that cultivation take place in locked room if there are kids in the house.
Prior to the vote, more than a dozen people got up to address the council, and all but one — Bayside resident and former Humboldt County supervisor candidate Karen Brooks — spoke in favor of legitimizing adult use marijuana in the city.
Dani Burkhart, who identified herself as a permit compliance consultant, questioned also questioned the logic of the ban on cultivation in houses with children, pointing out that the city allows parents to control access to tobacco, alcohol and pharmaceuticals. She also advocated for allowing on-site consumption of cannabis in retail stores, arguing that banning such activity would hurt tourism.
Jeff Poel is the owner of Eco-Cann, the recently opened dispensary on F Street. He hopes to convert to an adult-use retail sales operation in the new year, and he questioned the city's current ban on signage for all cannabis-related businesses. He argued that the ban infringes on his First Amendment rights.
"Let us put up a sign," Poel said.
Quick side note on that topic: Holmlund said earlier in the meeting that staff will be revisiting that issue. Assistant Planner Swan Asbury will visit four or five communities in Oregon, taking photos of pot shop signs and consulting with local officials and chambers of commerce. Staff will bring the matter back before council in December or January, Holmlund said.
Eureka warehouse owner Andrew Giacomini got up to testify about the economic benefits of the weed industry. He and his family were considering selling their warehouses on Fourth Street and moving to the Bay Area until Eureka opened itself up to cannabis businesses. "Now we're spending lots of money in Eureka," he said. "We're putting to work architects, engineers, plumbers and electricians to fix one facility that will employ many people."
Brooks, the lone critic of the industry among the public speakers, said she's concerned about the social impacts, including the safety of our streets and kids whose parents can't provide for them. "I would err on the side of go slow," Brooks said. "There's nothing wrong with laying back, waiting to see."
But council sided with the majority of speakers.
Here are a few other provisions of the city code amendments approved last night:
There will be no big outdoor weed festivals in the city: "No public or private event where cannabis is offered in any manner, sold, furnished, transferred, given away and/or consumed by any person shall be allowed outside a licensed cannabis facility," the code reads. Even that can only happen at special events, with a permit from the city.
That's actually more permissive than what the Planning Commission recommended, which was an outright ban on on-site consumption for any and all cannabis facilities.
Outdoor cultivation will not be allowed.
That's right: No backyard gardens. You must grow your weed indoors, with a maximum cultivation area of 50 square feet and no more than six plants. (State law won't allow local jurisdictions to set a limit lower than that.)
No limit on processing area.
A previous draft limited processing areas to 20 square feet, but the Planning Commission suggested striking that provision. So cultivators will be free to roll joints in front of the TV while watching Game of Thrones.
Mico-businesses will be allowed.
Following the state's lead, Eureka will allow a small-business owner to obtain a a license allowing them to do between two and four of the following activities: indoor cultivation, distribution, non-volatile manufacturing and retail sales. Such businesses will be restricted to certain parts of the city, though, since the most restrictive zoning rules for those activities will apply.
So that's the regulatory environment for the future of weed in Eureka. Bergel defended the council's decisions to be more permissive than what the Planning Commission or staff had suggested.
"We need to be forward thinking with this stuff," she said. "I know it's scary, and I know it's uncomfortable. But the way we've been living without [regulation] hasn't been good either."
To date, about 13 months after the city implemented its medical cannabis ordinance, the city has received 41 applications for weed businesses. Six of those applications have been approved, and the businesses are now up and running. Those six include a dispensary, a distributor, two transportation companies, a non-volatile manufacturer and a testing lab.

Asbury said she expects that by the end of November the city will have 30 cannabis businesses permitted.