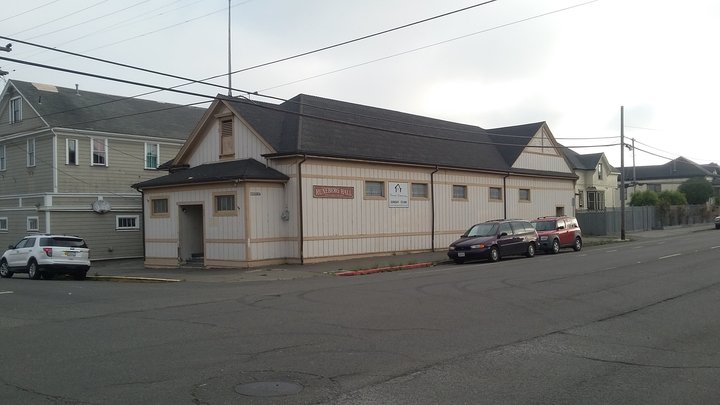 Eureka charity worker Betty Chinn has submitted a proposal to open a new facility serving the town's homeless population at the corner of Wabash Avenue and Union Street, inside Runeberg Hall. The pilot project would be funded, at least in part, by the city of Eureka and the Eureka Police Department.
The facility would be open from 9 a.m. to 3 p.m. every weekday, and would create "an indoor, central location where people can gather off the streets." The facility would serve lunch daily, would be open to homeless citizens with dogs and bulky possessions, and would serve as a hub where homeless people can connect with services. (see full description here.)
Lynette Mullen, the city's Homeless Services program manager, told the Outpost that the city is interested in funding a pilot project such as this, in the hope that it will reduce strain on police and other emergency workers, who are often called to deal with friction between homeless citizens and others during the day.
"The hope is to provide place for folks to go, and that maybe it will lessen impact in community so that police will be able to devote time to more urgent calls," Mullen said.
The city is hosting a community meeting on the proposal on Thursday, Sept. 21, at 6:30 p.m. in Runeberg Hall. Mullen said that they're hoping to hear from neighbors of the proposed facility and from members of the homeless community at the meeting.
From the Eureka Police Department:
The City of Eureka and Eureka Police Department will host a public meeting on Thursday, September 21, 6:30 p.m. at 1685 Union Street, Eureka, CA to discuss a proposal received by the Betty Kwan Chinn Homeless Foundation to operate a Homeless Community Center at 1685 Union Street, Eureka, CA

This public meeting is to discuss a proposal to initiate a six month pilot project, anticipated to launch October 2017, to operate a community day center for disadvantaged and homeless people in the community. In addition, the center will serve as an entryway that allows individuals to access a wide range of services and support.
###
DOCUMENT: