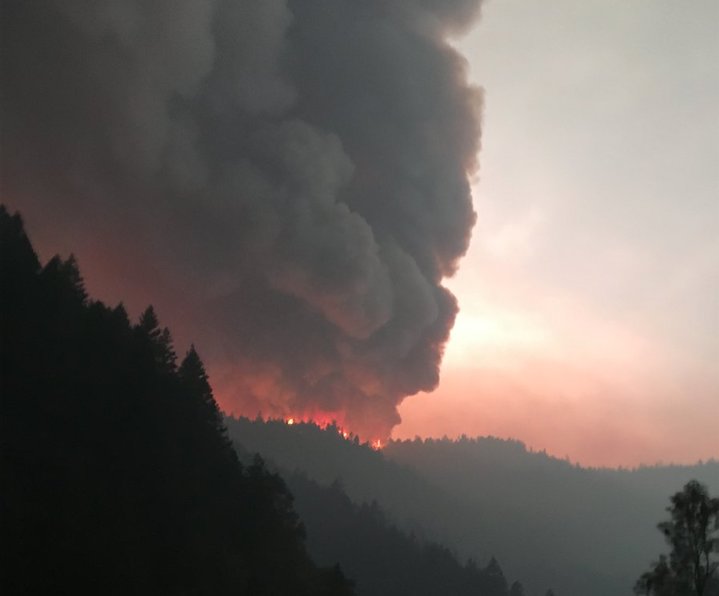 Humboldt County's September 2017 has been truly weird thus far. The first three days of the month have all seen record-breaking temperatures and lung-filling smoke, even out at our normally pristine coast, while inland conditions are now listed as "hazardous." Clean air shelters have been set up in Weitchpec and Hoopa.
For a better perspective on just how bad things are, here's the latest satellite view, courtesy NASA: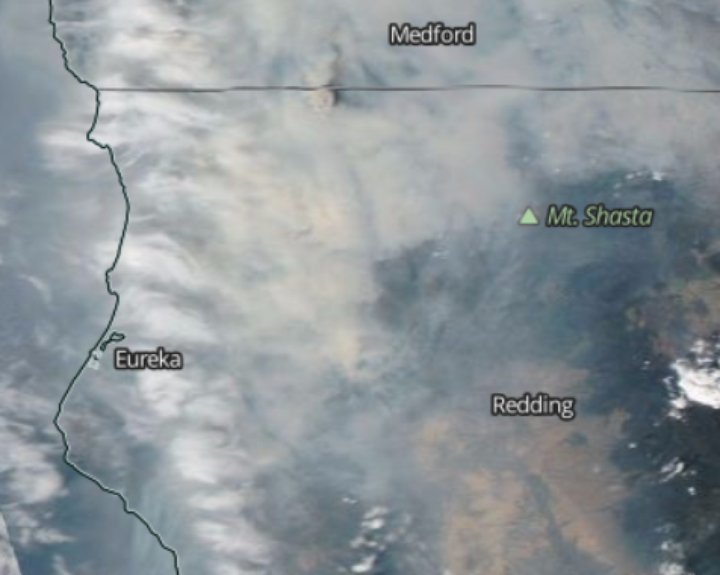 As for heat, Eureka broke its daily temperature record each of the last three days, and Saturday's high of 87 tied the hottest mark in the city's recorded history. Inland areas have it even worse, with smoke-choked Willow Creek, Hoopa and Weitchpec expected to hit triple digits today.
The colors in National Weather Service map for this afternoon look more appropriate for Phoenix than Humboldt:
It's going to be hot again today. Here's the #LaborDay high temperature forecast for Northwest #California. #cawx pic.twitter.com/lvZGUg2FVC

— NWS Eureka (@NWSEureka) September 4, 2017
As the Helena Fire in Trinity County continues to burn, Hwy. 299 remains closed. However, Caltrans expects to open the road today at noon, 3:00 p.m., 5:30 p.m. and 9:30 p.m., depending on fire activity and operations. The fire now covers nearly 9,000 acres and is just 14 percent contained.
Here's the latest air quality advisory from the North Coast Unified Air Quality Management District:

Orleans, Weitchpec, and Hoopa are forecast "Hazardous" conditions for these communities in the Klamath River drainage.

Clean Air Shelters in Humboldt County:


Weitchpec Tribal Office, Highway 96, Weitchpec. Hours are 8 a.m. to 6 p.m.
Hoopa Neighborhood Facility, Hoopa Tribal Office, Highway 96, Hoopa, 8 a.m. to 6 p.m., M-F and this Holiday Weekend.

For the Humboldt Bay Air Basin (communities from Trinidad, McKinleyville, Arcata, Blue Lake, Eureka, Fortuna, Ferndale, Rio Dell, to Scotia) the forecast is overall "Unhealthy" with periods of "Very Unhealthy" conditions with possible improvement toward the afternoon/evening.

Garberville and areas in southern Humboldt continue to be forecast overall "Unhealthy for Sensitive Groups" to "Unhealthy" conditions.

Willow Creek and Salyer are forecast overall "Very Unhealthy" conditions.

Symptoms that may be related to excess smoke exposure include:


Repeated coughing
Shortness of breath or difficulty breathing
Wheezing
Chest tightness or pain
Palpitations
Nausea or unusual fatigue
Lightheadedness

If you have any of the symptoms listed above, contact your health care provider. Please see the NCUAQMD's General Public Service Announcement for recommendations on limiting smoke exposure. For 24-hour Air Quality Advisory Information, call the NCUAQMD's hotline toll-free at 1-866-BURN-DAY (1-866-287-6329), or visit the website at www.ncuaqmd.org.
The Helena Fire in Trinity County remained active overnight, though firefighters are making progress, according to the latest update. This afternoon, however, the fire activity and a "smoke column" are expected to increase along with the temperatures.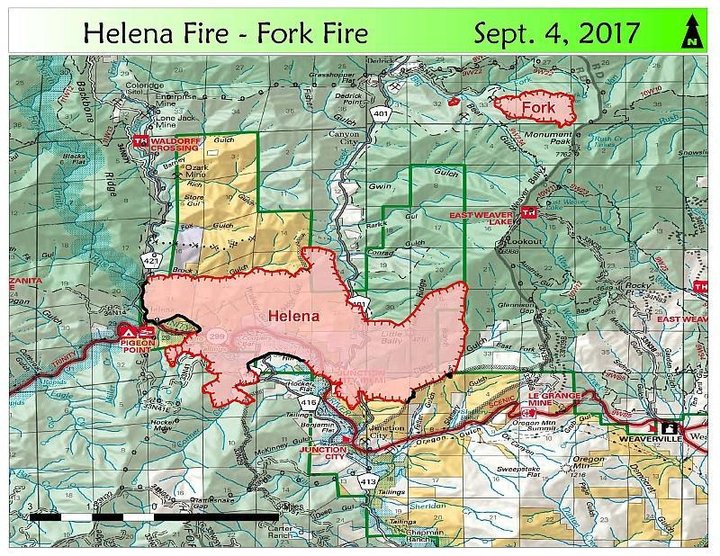 The massive Salmon August complex, meanwhile, has grown to nearly 50,000 acres, and residents of Sawyers Bar Road have been given an evacuation order. The area affected includes Nordheimer Flat to Etna Summit, and an evacuation shelter has been set up at Etna High School in Siskiyou County.

Clean air shelters have also been set up in Del Norte and Trinity counties, as listed below:
Clean Air Shelters in Trinity County:
Veterans Memorial Hall, 101 Memorial Dr, Weaverville. Hours are 8 a.m. to 7 p.m.
American Red Cross Evacuation Shelter, First Baptist Church, 1261 Main St., Weaverville.
Hayfork Community Center, 154 Tule Creek Road, Hayfork. Hours are 8 a.m. to 7 p.m.
Clean Air Shelters in Del Norte County (see also http://preparedelnorte.com):
Family Resource Center, 494 Pacific Ave, Crescent City (closed 8 p.m. to 10 a.m.)
Tsunami Lanes Bowling Alley, 760 L Street, Crescent City (open during regular bowling alley hours posted at location)
Xaa-wan'-k'wvt Village and Resort (formerly Ship Ashore), 12370 Hwy 101 N., Smith River (closed 8 p.m. to 6 a.m.)