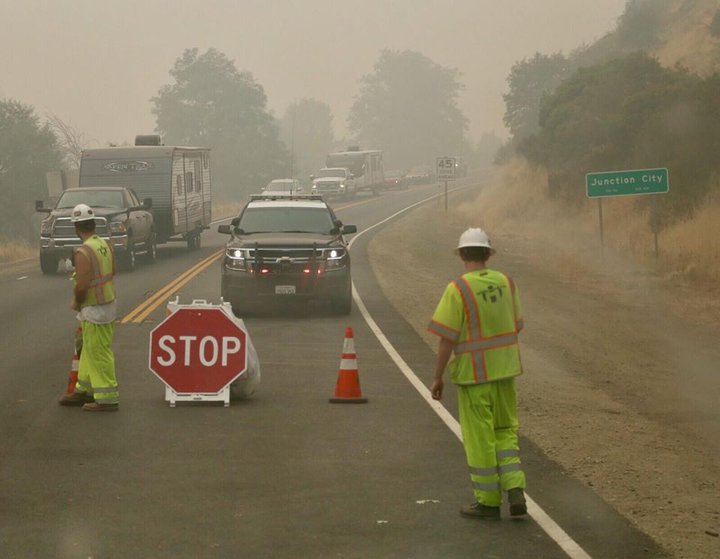 As reported earlier today, State Route 299 remains closed due to the Helena Fire, though Caltrans is allowing traffic to line up and then roll through every two-and-a-half to four hours until 9:30 p.m., depending on conditions.

Looks like that approach will continue on Tuesday, with six "single-time" openings scheduled between 5:30 a.m. and 9:30 p.m. Complicating matters further, State Route 36 — the usual backup option — is scheduled to be closed from 8 a.m. to noon and again from 1 p.m. to 5 p.m.
Here are the details courtesy Caltrans District 2:
Caltrans District 2, in coordination with the California Highway Patrol, United States Forest Service Incident Management Team 3, Trinity County Sheriff's Office, and Trinity County Department of Transportation anticipate the following highway openings tomorrow, September 5, 2017 on State Route 299 W in the area of the Helena Fire:

SINGLE-TIME OPENINGS ANTICIPATED AT:

5:30 a.m.
9 a.m.
12 p.m.
3 p.m.
5:30 p.m.
9:30 p.m.

THIS SCHEDULE IS FOR TUESDAY SEPTEMBER 5, 2017 ONLY.

Eastbound and westbound traffic IN LINE at these times will be allowed through the area under traffic control, depending on fire activity and operations. Motorists are also asked not to stage in the area early. Please arrive at the highway closure areas within 15 – 20 minutes of the scheduled opening times. Traffic arriving in these areas too far in advance will be turned around and directed to find another place to wait.

PLEASE NOTE:

These openings are for THROUGH TRAFFIC ONLY. All areas under evacuation orders remain closed. Following the 9:30 p.m. anticipated opening, the highway will be closed overnight.

The highway is subject to closure AT ANY TIME due to fire conditions. Travelers are urged to drive slowly and carefully through the area. Visibility may be decreased due to smoke and fire crews and equipment will be present in the area.

STATE ROUTE 36W ANTICIPATED SCHEDULE FOR TUESDAY SEPTEMBER 5, 2017 (for motorists planning to use as alternate route):

Highway closures on realignment project on SR 36, west of Dinsmore, anticipated to begin at 8 a.m. on Tuesday morning (9/5/17). Anticipated highway closure times: 8 a.m. – 12 p.m. and again between 1 p.m. and 5 p.m. Through traffic will be allowed through the area between 12 p.m. and 1 p.m. Officials will monitor traffic flows on SR 36W due to intermittent highway openings planned for SR 299W.

State Route 299W has been closed between Junction City and Big Flat since the Helena Fire began on the evening on August 30. The fire is currently at 8,940 acres, with 14% containment, per the fire briefing this morning.

Agencies will continue to monitor the situation, and provide updates when they are available.