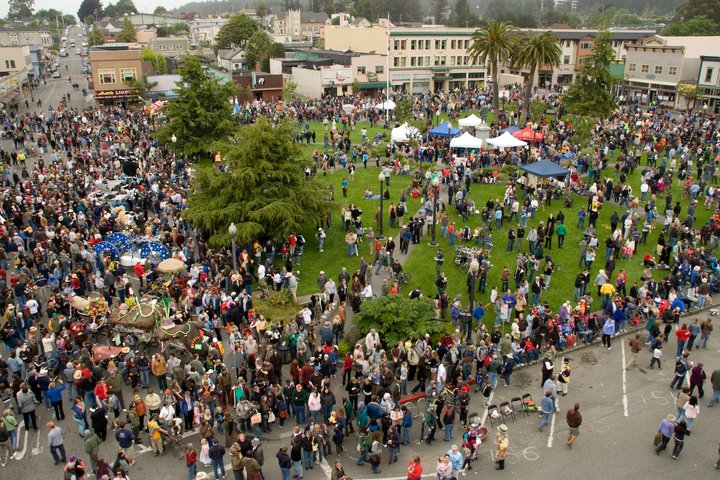 The weather has gone full-apeshit over the past couple weeks — not just nationally, with the most extreme rain event in American history, wildfires raging across the Pacific Northwest and the most powerful Atlantic Ocean storm in recorded history now barreling toward Florida, but also locally:
Saturday: Hottest day in Eureka's recorded history (tie).
Sunday: Smoke blankets Humboldt Bay like no time in living memory.
Tuesday and Wednesday: Freak summer thunderstorms.
Today: Dumping rain.
The age of extreme weather is apparently upon us. And despite our own schizoid atmospherics of late, Sacramento Bee columnist Shawn Hubler says that, after consulting with climate scientists about what to expect from climate change, she thinks Humboldt County may well be the best place in the state to hunker.
Hubler asked a group of meteorologists if it's possible for a Californian to outrun the coming catastrophe and still be in California. Penn State University meteorology professor David W. Titley suggested living above 40 degrees north latitude. With climate change expected to amplify existing patterns, places below that line will likely get hotter and drier, Titley said.
"So count Los Angeles (34.05 degrees north) and Sacramento (38.58 north) out as sweet spots," Hubler writes. "Even Mendocino (39.31 north) isn't quite far enough above the cutoff."

Increased rains can cause problems too, including more landslides, flooding and foliage, with the latter leading to more intense wildfires. And then there's sea-level rise, so the coasts may be trouble.
Ultimately, Hubler says she's developing "a whole new interest in Humboldt County."
Good weed, fresh salmon, colorful Arcata, historic Eureka – and all about the same latitude as New York City, Pittsburgh and Boulder? I'll cut to the chase: A California climate refugee could do worse.
What do you think, Humboldt? Are we ready for the hordes?