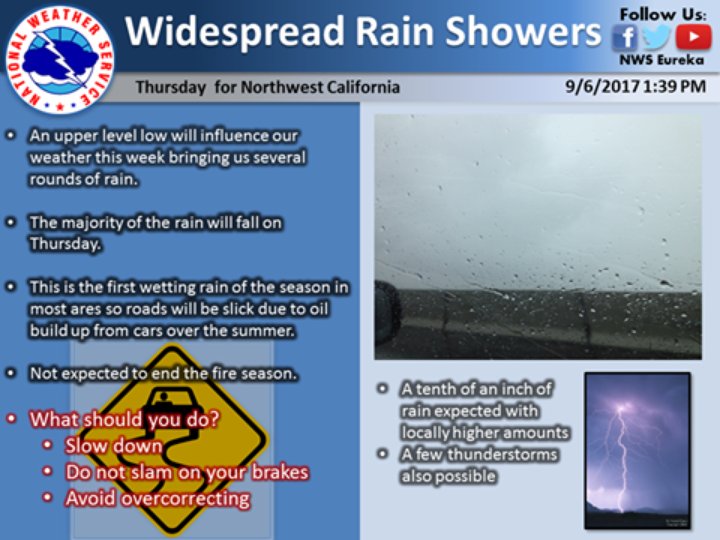 After weeks of hot, sticky, smoky disgustingness, Humboldt finally got a bath.
Eureka's National Weather Service office reports that roughly a tenth of an inch of rain or more will around Humboldt County today. Showers briefly drenched Humboldt this morning, and there's a chance we will see more rainfall tonight.
Enjoy this break while it lasts though. The NWS says hot conditions will return by Saturday.

"This is not expected to end the fire weather season as a return to warm weather is expected for the weekend," the local NWS office reported on Facebook.
According to the U.S. Forest Service rain began falling on the Orleans Complex fire around 5:30 a.m. While the rain is reportedly helping with air quality conditions, today's storms are also bringing lightning and winds — possibly causing more problems for firefighters.
Within the last 24 hours, Humboldt's surrounding forests have seen a flurry of lightning strikes. However, there's no word yet if these have ignited any serious wildfires.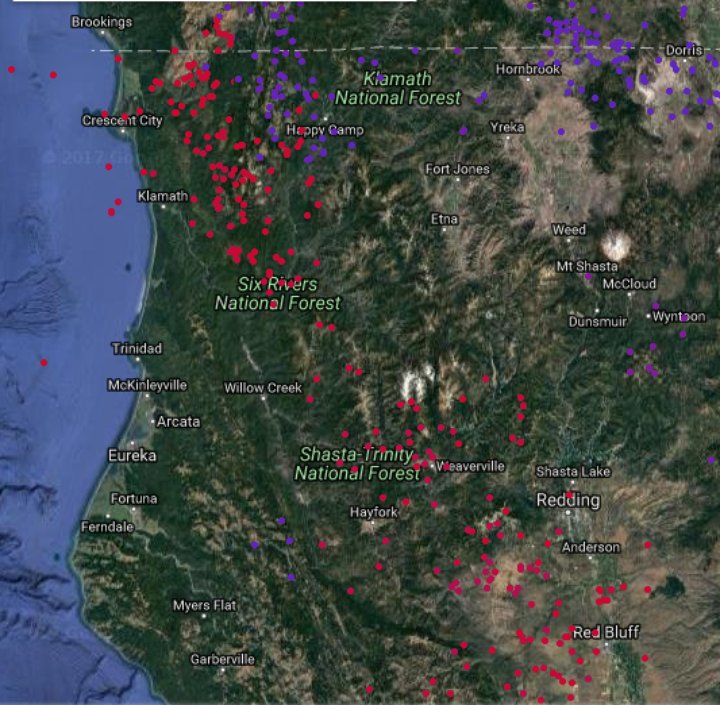 As of this morning, the Orleans Complex fire is currently more than 23,000 acres in size and 53 percent contained. Firefighters expect to have the blaze fully contained by Halloween.
Read more from the U.S. forest service below:
This morning NorCal Team 1 assumed management of the Orleans Complex, returning to Orleans for the second time this summer. "Given the status of the fires, and the limited resources available, we will continue to operate under incident objectives focused on point protection of residences and other structures in the vicinity of the Haypress Fire along Highway 96 and the Salmon River Road," said Incident Commander Curtis Coots. Last night, firefighters successfully used strategic ignitions to establish blackened fire line along a portion of the 13N12 road, before rain began falling on the fire about 5:30 this morning.

The Haypress Fire continued to back down slowly in the Stanshaw Creek drainage. On the southern flank of Merrill Mountain, the fire backed and flanked across the slope as burning material rolled down the hillside igniting vegetation. As of this morning, the fire is still approximately ½ mile from the closest structures along Highway 96.
No significant activity was reported on the Ukonom or Burney Fires.

Weather: Subtropical moisture has moved into the area bringing thunderstorms over the region. The National Weather Service has issued a Red Flag Warning for thunderstorms with the possibility of heavy rain, abundant lightning, hail and gusty erratic winds for today.

Air quality: Wetting thunderstorms passing through the area are likely to improve air quality. Today, air quality for Orleans will be Unhealthy for Sensitive Groups, while Weitchpec and Hoopa will have Moderate air quality. Tomorrow smoke is likely to drift more toward the Lower Klamath drainage between Orleans and Willow Creek. Upper Klamath (Seiad Valley/Happy Camp) and Salmon River (Sawyers Bar) are likely to have slight improvement over the last couple days, but remain in the Unhealthy category.

Safety: Bow hunting season is open. Firefighters may be conducting suppression activities in hunting areas. Portions of the Six Rivers and Klamath National Forests are closed. Contact your local ranger station for current closure information. Motorists traveling on State Highway 96 are reminded that there will be numerous firefighting vehicles on the roadway. Please drive with caution. Should the fire reach the road, drivers can expect periods of limited visibility and possible traffic controls, including controlled traffic and potential intermittent hard closures.