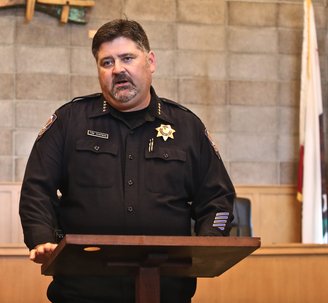 This morning's unexpected announcement from the City of Arcata that Police Chief Tom Chapman would be resigning effective immediately left observers with many questions.

Obviously its been a rocky year for Chapman, his department and city staff members. Community members have provided persistent criticism over the unresolved killing of 19-year-old HSU student David Josiah Lawson — the anniversary of his death falls this Sunday, April 15.
In an attempt to satisfy the numerous local media outlets with questions surrounding Chapman's departure and the status of the Lawson case, Arcata City Manager Karen Diemer sent out the following FAQ:
What can you share about why Chief Chapman resigned?

The Chiefs decision does not stem from any one single thing. It is a combination of personal reasons and professional judgement on what he believes is best for the Department and himself. He has served for over 24 years.

We have also heard that Tom Parker has stepped away from an active role in the David Josiah Lawson Investigation. Are those two actions related and will efforts be made to retain Parker?

Chief Chapman was unaware of Tom Parker's final decision to step away from his current role in the investigation when he made his decision to resign.

Tom Parker has agreed to be available by phone for continued consultation on the investigation.

Did either Tom Chapman or Tom Parker submit a formal letter of resignation?

Chief Chapman's letter of resignation is attached. [See below]

In the interim, who is currently acting chief?

The City will provide an update on an Interim Chief by next week. This week our Lieutenants will be trading off as Acting Chief as is common when the Chief is away from the Office.

Has David Josiah Lawson's family filed a claim or lawsuit against the city?

The City has not received any claims or lawsuits filed by members or representatives of the Lawson's family.

What does this mean for the David Josiah Lawson Investigation?

The investigative team for the David Josiah Lawson case is solidified with members of both the Arcata Police Department and District Attorney Investigators Office. This team will stay in place and focused on the case through its completion.
# # #
Below is Chapman's resignation letter: