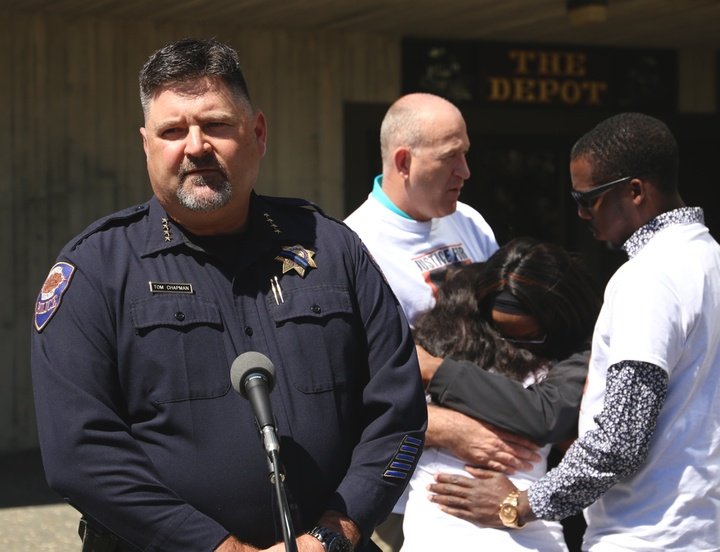 UPDATE, 4 p.m.: Arcata's City Manager Attempts to Answer Questions Surrounding Police Chief's Resignation
# # #
City of Arcata press release:
The City of Arcata announces the resignation of Police Chief Tom Chapman after 24 years of dedicated service to the Arcata Police Department.

Chief Chapman's career with the APD began in 1994 when he was hired as a Police Officer. In 1999, he was promoted to the rank of Sergeant and in 2003, earned the rank of second-in-command as Lieutenant/Captain. Chapman has served as Arcata's Chief of Police since January 24, 2010.

Chief Chapman managed the Arcata Police Department through a difficult transition in municipal policing and many years of budget reductions. His creativity and commitment to the City resulted in minimal reductions to critical programs during these years. Despite budget constraints, his initiative developed specialty officer positions for the Plaza and Arcata's high use parks, marsh and forest areas, in addition to a School Resource Officer position serving Northern Humboldt County schools. He built and restored programs such as the Juvenile Diversion Program, utilizing county-wide Measure Z funding, championed the renovation of the Arcata Police Dispatch Center and secured much-needed grants for the purchase of a Mobile Command Vehicle.

His dedication to his work and the community greatly improved APD's use of technology including the addition of officer body-worn and in-vehicle cameras. His efforts also helped to advance the department's records management system, update mobile data computers, replace outdated radio consoles and implement the use of automatic license plate recognition.

In addition, Chapman initiated several 21st century policing pillars to APD including mandatory training on race awareness, implicit bias and fair and impartial policing. He encouraged engaging the community with the department's use of social media and through the creation of a Public Safety Task Force.

Chief Chapman also improved outreach with Arcata's local business community. He was honored by the Arcata Chamber of Commerce with the Community Outreach Award in 2011 and 2015. Chapman holds the Executive, Management, Supervisory, and Advanced certifications from the Commission on Peace Officer Standards and Training, and he has served on the Board of Directors of the California Police Chiefs' Association, as former President of the Law Enforcement Chiefs' Association in Humboldt County and as former chair of the Humboldt County Drug Task Force Executive Board.

"It has been an honor to serve with Chief Chapman. I appreciate his leadership in supporting the Public Safety Task Force, his openness to finding new ways to serve the public and his dedication to all residents and visitors of Arcata. I will miss his soft-spoken nature and willingness to engage in difficult community issues with compassion and true concern," said Mayor Sofia Pereira of Officer Chapman's resignation.

The City of Arcata will release information regarding an Interim Chief of Police and the recruitment process for a new Chief of Police next week.