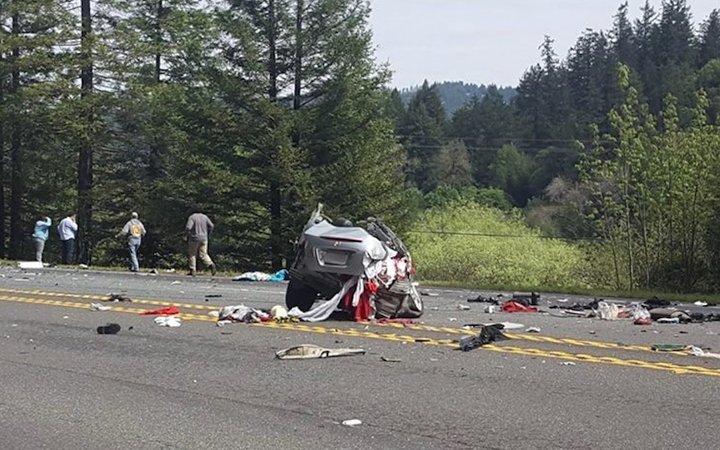 PREVIOUSLY: (UPDATE) Fatal Traffic Collision on Highway 101 in SoHum
###
CHP press release:

On April 13, 2018, at approximately 11:44 am, a 2007 Honda Civic, occupied by two females was traveling south bound US-101 south of Salmon Creek at an unknown speed. A 2003 Ford van being driven by Marsha Adams was traveling north bound US-101 south of Salmon Creek at approximately 65 MPH.

For reasons still under investigation, the driver of the Honda lost control of her vehicle and crossed into the north bound lanes, directly into the path of the Ford. The Ford struck the Honda broadside and both vehicles left the east roadway edge. As a result of the collision, both occupants in the Honda sustained fatal injuries and were pronounced deceased at the scene. The driver of the Ford was airlifted to Santa Rosa Memorial Hospital. Due to the recovery of the vehicles and the collision investigation, northbound traffic for US-101 was diverted onto SR-254.

The names of the occupants of the Honda are currently being withheld pending notification of the next of kin. It is unknown at this time of drugs or alcohol were a factor in this collision.

The California Highway Patrol, Redway Volunteer Fire, Southern Humboldt Technical Rescue, Cal-Trans, Humboldt County Sheriff's Department, State Parks, Miranda Volunteer Fire, Myers Flat Volunteer Fire, Salmon Creek Volunteer Fire and City Ambulance all responded to the scene. This collision remains under investigation by the California Highway Patrol - Garberville Office.