PREVIOUSLY: Meet Your 2018 Humboldt County Superior Court Judge Candidates, Part One: Lathe Gill
# # #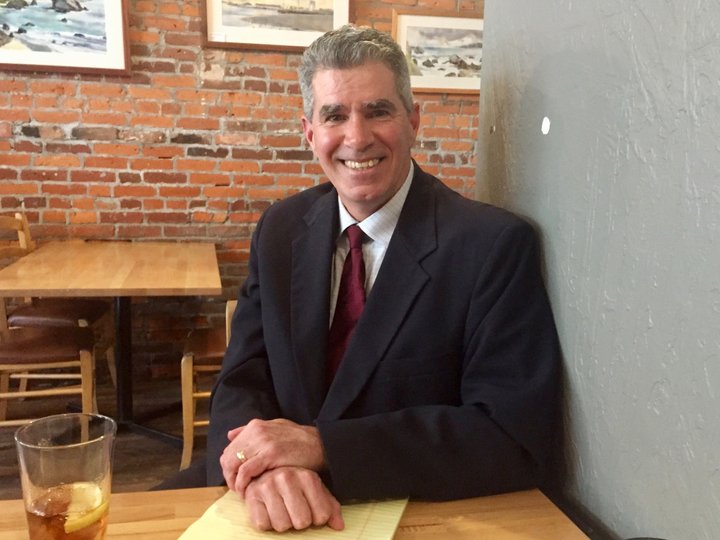 In his slightly oversized sport coat and maroon tie, a yellow legal pad in hand, Eureka attorney Lawrence Killoran looks every bit the part. You'd never guess that he first came to California as the drummer in a rock band called The Naives, whose music was once described as "kind of a cross between R.E.M. and the Ramones."
They mostly played in cities along the Northeastern seaboard. (Killoran was raised in Philadelphia, the fifth of seven kids.) Career highlights included opening for George Thorogood and appearing on a public broadcasting telethon hosted by Tony Randall.
"It was really fun," Killoran says between sips of iced tea at the Ramone's in Old Town. "I got to play at a number of colleges, got write-ups in the college papers. I did it until I was in my late 20s, and at that point I recognized this was not going to be a career."
He met his wife, Pam, at a club where The Naives played in San Clemente, and after quitting the band Killoran started taking classes in community colleges in Riverside and Long Beach. They moved to the Bay Area shortly thereafter, and Killoran enrolled at San Jose State University, majoring in history.
"I was thinking at the time I would be maybe a high school teacher or something like that," Killoran says. But professors in his political science classes noticed his aptitude and asked if he'd ever considered law school. Intrigued, Killoran turned in applications to a number of law schools, eventually enrolling in Golden Gate University School of Law in San Francisco.
While most of his fellow students were aiming for the type of boardroom careers available through corporate, business and tax law, Killoran had other ideas.
"I may be one of the only people that I went to law school with who set foot in my first class thinking I'd like to be a courtroom lawyer," he says. He took classes in criminal and family law. "I was designing my career at that point for the courtroom. … I didn't want to be a desk guy. I wanted to be involved with people and the problems they were having and try to help them out in any way I possibly could."
Killoran graduated in 2000, passed the bar the following year and landed a job. But Bay Area housing prices were outrageous, and with a toddler in tow and a second on the way, Killoran and his wife started looking for a place to start afresh.
"In my pursuit this one little ad kept kicking up on the computer, and it was for a paralegal in a criminal defense firm in Arcata, California, I asked my wife, I said, 'Where's Arcata?' And she said, 'I don't know,'" Killoran recalls with a laugh.
Google provided answers.
"We pulled up Arcata on the computer and the very first photograph we saw was an aerial of the city with the bay on one side and the Arcata [Community] Forest on the other and we thought, 'Oh my god. This would be pretty great.'"
The town made a good impression in person, too. The job interview was with Arcata attorney Russell Clanton, who put the family up in the Hotel Arcata. Killoran was "flabbergasted" by the Plaza, which looked to him like a town square transported from the 1800s. When he saw Clanton's name on the sign outside the handsome Jacoby's Storehouse, "I looked at my wife and said, 'Are you kidding me? That's the building I'm gonna be working in?'" Killoran says.
They've now been in Humboldt County for 17 years. Killoran started as Clanton's paralegal, and after passing the bar he became his associate attorney. "My feet got wet really fast there because Russ threw me into the courtroom on day one doing criminal defense," Killoran says.
During his three years in Clanton's employ, Killoran took turns on the appointment calendar handling cases out of Pelican Bay State Prison, usually as second attorney to Clanton. These were cases that originated from within the prison with charges including assault and murder.
"It was a fascinating way to begin to learn the art of criminal defense," Killoran says. With the maximum security prison known for housing "the worst of the worst" offenders, Killoran added, "I will tell you this: In my view plexiglass is one of the greatest inventions known to mankind."
While Clanton works almost exclusively in criminal defense, Killoran eventually met Michael Robinson, a local courtroom expert who offered to bring Killoran in and expand his areas of expertise, having him work on cases in civil court, family law and more. He's been part of the Eureka firm Scott, Robinson and Kllloran since 2004, working on a wide variety of cases.
"In criminal law I've done everything from murder to drunk-in-public, traffic infractions and everything in between," he says. "In family law I've done child custody and visitation, property division, child support, spousal support, retirement division, guardianships, adoptions, adult conservatorships, domestic violence restraining orders, civil harassment restraining orders in civil court, breach of contract in civil … oh shoot, I'm losing track. I've had a very rewarding career at this point."
Asked why he wants to become a judge, Killoran says that with his experience he feels ready to take on the challenge.
"I just think it would be a fascinating and interesting next step for me," he says.
The idea was planted in his head nearly three years ago, when Humboldt County Superior Court Judge Bruce Watson retired. At a professional gathering to celebrate the occasion, Watson said he hoped some of the people in the room would consider throwing their hats into the ring for a spot on the bench.
"I can't tell you exactly when I clicked from 'maybe' to 'yes,' but I do know that at this point I am very, very interested," Killoran says. "And I do have the support of many of the judges, my colleagues in family law, the Public Defender's office, the District Attorney's office — all of the trench-working courtroom lawyers are excited by the possibility that I might get this."
Asked if he would bring a judicial philosophy to the bench, Killoran says only that he'd be ruled by the law, facts and "a serious dose of common sense." And he says he'd be particularly considerate of litigants who come into court without representation, people who are often nervous and don't know the rules of the courtroom.
With the recent retirement of longtime judge John Feeney, Killoran says he's also interested in taking over the homeless court program, "because I think it's a brilliant, brilliant idea." But with the large turnover on the Humboldt County Superior Court bench, he expects other new judges to pursue that assignment as well.
And he says he'd like to see the Garberville branch of the Humboldt County courthouse reopened, if possible. "I think it makes no sense to have all of these people drive an hour and a half to come all the way up to the courthouse for calendars when one judge and a court reporter and a bailiff can make the drive down there and at a minimum begin the cases," he says. "That would be a priority."
Being a political candidate doesn't come naturally to Killoran, who describes his temperament as steadfast, calm and professional.
"I've described it this way: If you and I were at a gathering, and everybody was in the living room and there were six of us in a group talking, I wouldn't be the guy that's in there saying, 'Hey, here's what I think,'" Killoran explains. "I'd be the guy that's kind of standing on the outskirts, just listening. That's more my personality."
Asked whether he's worried about the heavy caseload in the county courthouse, Killoran says he thinks a full slate of local judges will make a difference. While he's grateful that traveling judges have filled in, he believes Humboldtians will be less likely to accept requests for continuances "to kick the can down the road."
On his campaign website Killoran highlights his local career, noting that he has experience in every courtroom of the courthouse, and in his interview he again emphasizes his Humboldt connections, saying he's raised three daughters here and has been a volunteer soccer coach for Mad River Soccer League for a decade. "Coach of the year in 2012!" he adds.
Killoran says he and others who have spent years in the Humboldt County Courthouse see the recent judicial turnover as "a watershed moment," and he says he can be part of the next generation, offering a "consistent and dependable judiciary."
"I have a unique skill set that I'm bringing to this job," he says.
Killoran is running against Lathe Gill, an attorney representing the California Teachers Association. Gill's Outpost interview was published on Friday. California's June primary election will be held on Tuesday, June 5.