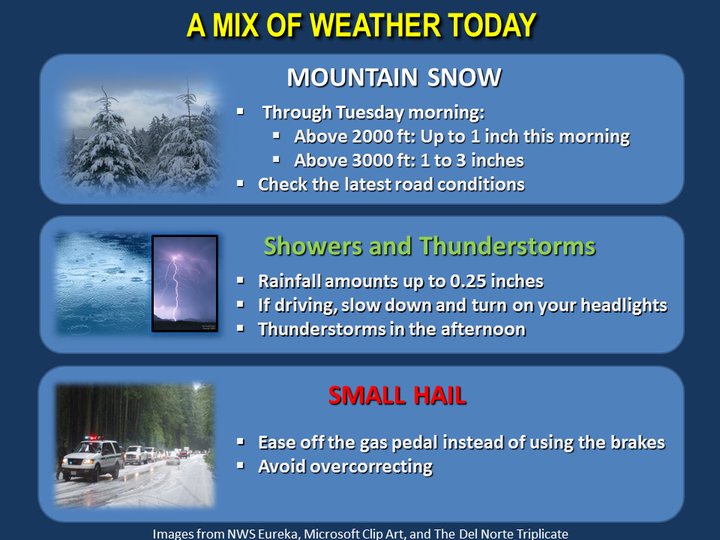 Enjoying this little burst of warm sunshine this morning? Enjoy it while you can! Because this cruel cruel winter is not through with us yet, according to the good folks in the National Weather Service office on Woodley Island.
More rain and snow. Yes, it's a drier than average year and, yes we need it. That doesn't mean we have to like it.
Here's what forecaster have to say in the dumb weather forecast discussion they issued this morning:
SYNOPSIS

Showers will persist across the region today. Isolated thunderstorms and small hail will also be possible, as well as light mountain snow. Another storm system will move south across the area during midweek, followed by drier weather Friday into the weekend.

DISCUSSION

The upper level trough has started to move over the area this morning. This will bring showers to the area this morning. Snow levels are currently around 2,500 to 3,000 feet. Snow accumulations of 1 to 3 inches are expected this morning. Closer to the coast the heavier showers are expected to have some hail in them. Some accumulation of hail is possible with these showers with the highest potential in the morning.

This afternoon as the daytime heating increases the instability increases with cape values over 300 j/kg across the interior. Lapse rates are also over 8C/KM. This will bring the potential for some thunderstorms are the interior. Also, snow levels will rise to 3,000 to 3,500 feet in the afternoon.

Tonight showers will taper off from south to north through the night. This will bring the potential for frost and freezing temperatures. There are still some questions on how much lingering moisture and clouds there will be from the recent rains, however the airmass is quite cold so have gone ahead and upgraded the freeze and hard freeze watches. The coldest areas will be in Trinity county. Weaverville, Hayfork and Ruth will likely see low temperatures in the upper 20s. Mendocino county will likely see low temperatures from 30 to 36 degrees in the valleys and coastal areas so have issued a combination of frost and freeze warnings. The more challenging areas will be Humboldt and Del Norte counties. Del Norte county looks like it will have too many clouds for frost to form, although temperatures may be low enough. The Humboldt county interior is expected to see some frost. The coast is expected to stay warm enough to keep frost away, although this will need to be watched as it gets closer.

Tuesday a brief period of high pressure builds into the area. This will bring a dry day, although there may be some clouds around. Tuesday night increasing cloud cover from an approaching system is expected to keep temperatures warm enough to keep frost out of most areas. The models show this system as a nearly vertically stacked upper level low moving into Mendocino county on Wednesday. This will bring some showers to the area, although the best chances look to be in southern Humboldt and Mendocino counties. Wednesday night into Thursday morning this moves quickly out of the area. Depending on exactly how quickly this moves out of the area there may be some frost or freezing temperatures in the valleys.

Thursday through Saturday high pressure builds in to the area with rapidly warming temperatures. Highs in the upper 70s to low 80s are possibly on Saturday. Frost is possibly in the coldest valleys, but the likelihood of this will diminish each night. Sunday temperatures will start to cool slightly as the ridge starts to break down.