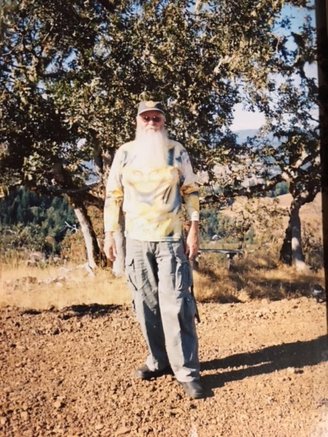 Don flew over the Rainbow, January 8th @ 10:18, 2018.

Don lived in the Humboldt County area since 1984. As an artist in the Los Angeles area his designs were on fine glassware, etched and signed. His designs of stained glass windows were popular and can be seen in many of the homes in Orange County and other LA areas. Don worked at the LA Times as a printer while attending Art School. During this time he had the opportunity to help Ansel Adams develop and convert his large negatives into the well-known prints that we all love.
But he loved it here. He had a home / shop across from where Amelia's Gourmet to Go is now. I have heard from neighbors of that time; that he was called the unofficial mayor of Garberville. They formed the "Back Street Rowing Club". A good time had by all. Friends forever.
Eventually, Don hid all his art equipment in the farthest corner of storage, as is was hard to find technicians up here to etch the designs using Garnet sand on the glassware. He retired from this about 1988.
At Music for Little People, Don did the returns. Checking for what was ruined or what could be put back in stock. One of his stories was how on Christmas one year he sent drums and noisy things to all the Grandchildren, a payback to the parents for when they were young themselves.
Don was active with many local music events as a volunteer. At Reggae, he worked running the water truck, which was a paid position, and as security backstage.
As President of Kiwanis in Garberville and other chairs, Don volunteered at the Redwood Run. He was there building the wood booths, and the landscaping. His camping spot was perfect, located next to the stage. It attracted many more campers there. A central spot to listen to music, watch the bikes zooming down the hill, keeping peace with the Biker Clubs and Kiwanis.
Don sold his etched glassware at the Summer Art Festival in the 80s. Set up the street barriers at Kate Wolf Festival, Earth Dance and other Music Festivals at the Black Oak Ranch. The volunteers he met and camped with are many and continued to be good friends after his days working / playing at the great musical festivals we are blessed to have here in the Emerald Triangle.
Don was a pet of Lagunita's Beer, or so it seemed. A case would appear in his trunk or porch, so he could share the beer with the thirsty. When in Petaluma he was caught by a camera hugging a huge vat of beer. He loved good beer. Other local Breweries, Eel River, Lost Coast, Mad River, Six River were visited on the way home from McKinleyville. It would sometimes take 5 hours. An hour a beer, shit stirring his way with the many friends who paused for a bit to enjoy the camaraderie and good taste of our local products.
Don was a Radio guy! He listened all day and had his favorites: KMUD-Jo Mama's Blues. KHUM-Amy and Cliff, KHSU-Saturday Afternoon Shows. No TV for him! Radio was a part of his life. We moved here because he could still get KOST out of Fort Bragg.
Don gardened for many years. His flowers flourished in the good soil and natural sunlight. He watched as the years recorded history being made in these rural mountains and ridges. Interesting times that brought folks from far flung corners, to meet and develop in artistic, liberal, educated culture. Don saw people who cared for the land, cared for the animals, cared about work, music and fun.
After the turn of the century Don's home in the S.W. Trinity County Mountains kept him as a Gentlemen Farmer. His joy in this quiet place with the views forever, and the four seasons never left him.
Don was proceeded in death by his mother and father, Helen and "Mike". His baby brother, Monte. Sister, Mary and her husband, David Kulczycki. Don is survived by the last love of this life, Judy Davis, his brother Jack and wife Mary. Son's: Donald (D3) and wife Amy, Miles, Greg, Scott and a daughter he never met but included as family. Grandchildren" Donald Mark IV, Randall Scott, Erica Lynn, Steven Ray, James Clayton and Sara Nicole, Samantha. Great Grandchildren; Jake Katsuya Heberlein, Kaeden Kikumoto, Olivia Marie Campbell, Ehtaniel David and Harrison Robert Heberlein. Niece and Nephew, Todd Heberlein and Kimberly Noles. During his life with Judy, he included: Deena, Nicol and John as his family, with their children Ruthann, Ashley, Nicholas, and Amber as their Grandpa.
His ashes will be planted, per his request, on the property's mountain top. A Celebration of Life will be at noon, Earth Day, Sunday, April 22, 2018. Friends are welcome to attend.
###
The obituary above was submitted on behalf of Don Heberlein's family. The Lost Coast Outpost runs obituaries of Humboldt County residents at no charge. See guidelines here.