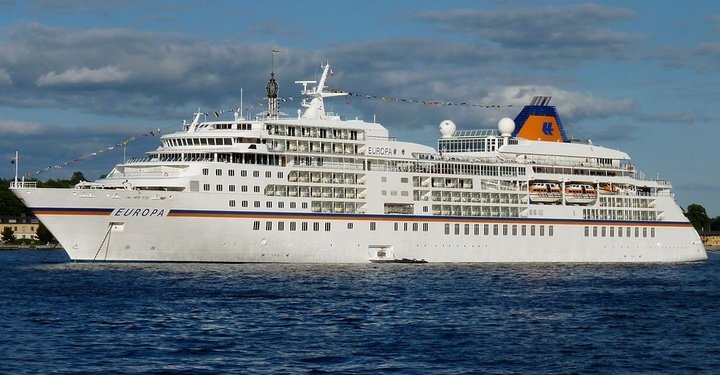 From the City of Eureka:

The Humboldt Bay Harbor District and the City of Eureka have formed a partnership with the Eureka Visitor Center, Eureka Main Street, and community volunteer Chet Albin to strategically recruit cruise ships to Humboldt Bay. The Tourism Committee of the Greater Eureka Area Chamber of Commerce has also recently joined the team.

The Humboldt Bay Cruise Ship Partnership (HBCSP) consists of jointly-staffed teams that focus on: Infrastructure and Logistics, Cruise Ship Coordination and Marketing, Passenger Fulfillment, and Long-term Strategic Planning. The marketing campaign is well underway, with the tag line "Cruise Humboldt's Redwood Coast." Several weeks ago, team members of the partnership attended an international cruise ship trade show in Fort Lauderdale to promote and market Humboldt Bay and our redwood coast. Later this year, team members will attend another cruise ship industry meeting in Seattle to recruit additional ships.

Earlier this month, members of the team traveled to Astoria, Oregon to witness the arrival of a 2,600-passenger cruise ship and to learn from our neighbor to the north. While Astoria's population consists of less than 10,000 people, the city has had remarkable success in attracting cruise ships over the past several years. While very few ships stopped in Astoria 10 years ago, over 20 ships now stop by the port each year.

In 2018, 25 ships are scheduled to visit Astoria, with a collective total of more than 46,000 passengers. While Humboldt Bay's channel depth and dock capacity does not quite match Astoria's, 16 of the 25 ships scheduled for Astoria could easily be accommodated in Humboldt Bay, which shows Humboldt Bay's great potential. Those 16 ships (and dozens of others) cruise past Humboldt Bay each year without stopping here. The purpose of the Humboldt Bay Cruise Ship Partnership is to begin actively attracting cruise ships to our port.

The partnership is happy to announce that initial efforts are already paying off. One cruise ship is scheduled to arrive in Humboldt Bay in May of 2018, additional bookings are being considered in 2019, and there are efforts underway to increase these numbers. Because cruise ships rely on recommendations from one another, the best way to recruit additional ships in the coming years is to ensure that the passengers and crew of this year's ship have a phenomenal experience.

The ship is scheduled to arrive on Monday, May 21st at 6 a.m. and multiple efforts are underway to optimize their experience. A dock-side party is being arranged to greet the guests as they de-board, multiple tours are being organized directly with the ship's tour coordinator, Eureka Main Street is working with businesses to ensure that stores are open and ready, a community clean-up is being arranged, and a request has been issued to NOAA for a day of great weather.

While this first ship is relatively small (approximately 120 passengers) the ships being courted for 2019 are much larger and could each carry over 1,000 passengers. The fact that the first ship in the queue is small provides an opportunity to test our community's readiness for bigger ships. Volunteers will be a keystone of our success. While much can be done with the collective resources of the Humboldt Bay Harbor District, the City of Eureka, the Eureka Visitor Center, and Eureka Main Street, a significant number of volunteers will be needed in 2019 if the partnership is successful in recruiting bigger ships.

The future looks bright for attracting cruise ships to Humboldt Bay. The economic boost to our region could be significant and many tourism-related businesses could be created. Not only would attracting cruise ships to Humboldt Bay provide direct economic benefits to our region, many people on cruises tend to visit an area again if they enjoyed their experience, which means cruise ships can be an excellent marketing tool for Humboldt's tourism economy. While there is much to be done, including significant ongoing efforts to ensure our Bay is dredged, the Humboldt Bay Cruise Ship Partnership is on the path to success.

For more information, contact the Eureka Visitor Center at http://www.visiteureka.com/.