PREVIOUSLY:

###
A Eureka teen suspected of stabbing a 16-year-old boy to death last week at Ocean View Cemetery pleaded not guilty today to murder with the special allegation of using a knife.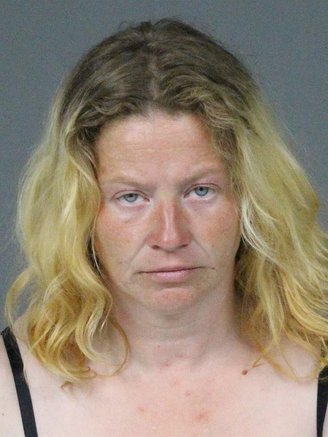 Attorney Christina Allbright, appointed to represent the teen, entered the denials during a Juvenile Court hearing this afternoon. Earlier in the day in a different courtroom, the boy's mother Lorna Jean Leen pleaded not guilty to a single count of murder. The County Conflict Counsel's Office was appointed to represent Leen, but a hearing to confirm that appointment was set for Thursday morning.
Leen wept during her arraignment.
Leen's son is accused of murdering 16-year-old Brandon Brocious on Thursday night. He and Leen were arrested early Friday morning. Leen was at a homeless camp near Bayshore Mall, and her son was found nearby.
Both hearings were packed with Brocious' friends and family members. Juvenile Court hearings are generally private, but visiting Judge Doris Shockley opened the court, first to immediate family members of the victim and suspect and then to the public. The courtroom wasn't opened until nearly 4 p.m., though it was scheduled to begin at 1:30.
Shockley set a transfer hearing, held to determine whether the teen should be tried as an adult, for Oct. 18. Information on his case will be provided to the Humboldt County Probation Department, which will make a recommendation on where he should be tried.
Three people were there to support the suspect — his aunt, his brother and a young woman.
When the bailiff came out of the courtroom and asked for immediate family members to enter, a blonde woman said "I'm his aunt."
"His mother?" the bailiff asked.
"She's in jail."
"His dad?"
"There is no dad," the aunt said. "He doesn't exist."
The suspect was not visible to most of the courtroom audience during the hearing. He sat in the jury box next to his attorney, hidden by a large pillar.
Shockley ruled that the young suspect should remain in custody at Juvenile Hall, "as he might flee the jurisdiction of the court."
Shockley said the judge who issued the arrest warrant had set bail at $1 million. But outside the courtroom, Deputy District Attorney Stacey Eads said bail is not an issue in Juvenile Court proceedings.
During the hearing there was some discussion about who had custody of the suspect. Eads would only say later that "Child Welfare Services has been involved in his life."
###
Outpost reporter Stephanie McGeary contributed to this story.