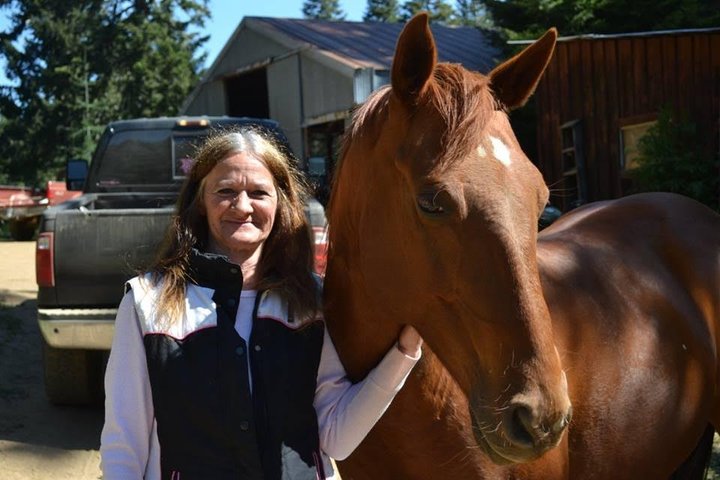 It is with heavy hearts we announce that Daisy Lorene "Rene" Hudson, our beloved mother, passed away suddenly on August 6th 2018 at the age of 58.

Daisy was born and raised in Humboldt County, spending her youth in Orick. Raised as the youngest of 6 siblings by her Grandma and Grandpa, she grew up on a small dirt road where she gained her love of gardening from her Grandpa. She spent much of her adult life in McKinleyville and Eureka where she raised her 4 kids. Daisy had many talents and could build, make or cook anything. She loved sewing and was constantly making something for one of her kids or grandkids. She also loved canning and filled our pantries with jellies, jams, applesauce, and green beans.
Daisy touched many lives and many places. It is hard to go anywhere where you won't run into someone she knew (everyone called her Mom), and it is impossible to walk around our homes without seeing pieces of her love everywhere. From homemade curtains, to homemade potholders, our mom is ever present in our homes. Much of her later adult life was spent in the mountains where she fit in just right as a "mountain woman." Daisy spent the last year and a half of her life in Fort Jones, where she grew the best garden she ever had, and made many new friends with the neighbor ladies.
We will forever remember Mom for her great love of gardening and sewing, for her support, her infectious laugh, and her great love for all of us. She was tough, she was stubborn and she was the strength that held our lives together. She will be deeply missed for the rest of our lives.
Daisy is survived by her 4 children: sons, Donny Longacre, David Collenberg, Jimmy Hudson, and daughter Amber Heidinger; her grandchildren, Jeffery, Randallyn, Ryder and David (who were her greatest joys in life). She is also survived by her brother Harvey (and wife Linda), brother Jim (and wife Sandy), sister Carolyn (and husband Jerry), many nieces, nephews, cousins and her fur-babies: Lug-Nut (dog), Ford (cat), Breezy (horse), Judah (dog) and her 300 chickens. Daisy is preceded in death by her grandpa Harvey (Pop), grandma Daisy, mother Joyce, sister Nancy, and brother Curt.
We would like to invite all of our family and friends to come and celebrate her life at 3 p.m. on Saturday, August 25, 2018 at Kneeland Glen Farm Stand (Freshwater Farms Reserve, just south of 3 Corners Market on Myrtle Avenue) in Eureka, California.
Girdner Funeral Chapel in Yreka is assisting the family, and online condolences may be made at www.girdnerfuneralchapel.com.
###
The obituary above was submitted on behalf of Daisy's family. The Lost Coast Outpost runs obituaries of Humboldt County residents at no charge. See guidelines here.