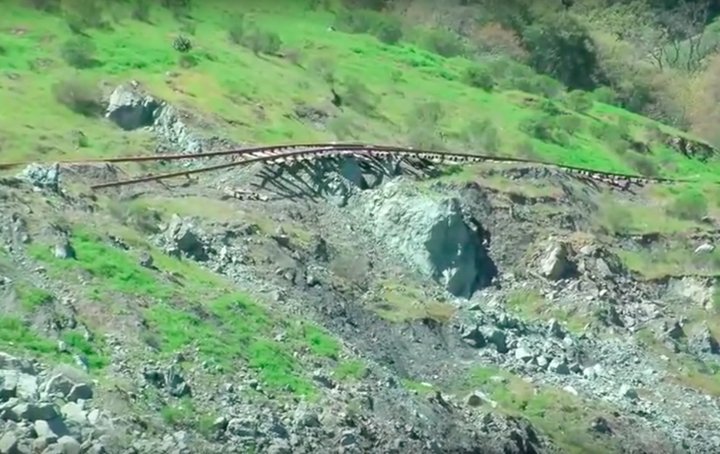 PREVIOUSLY

###
With the Aug. 31 legislative deadline looming, Sen. Mike McGuire has dramatically revamped his proposal to dismantle the North Coast Railroad Authority and railbank the long-defunct tracks through Humboldt and northern Mendocino counties.
McGuire's bill — formerly dubbed the "Great Redwood Trail Act," now bearing the more prosaic title of "North Coast Railroad Authority" — was amended yesterday in the Assembly, and it now takes a far slower and more cautious approach to retiring the railroad and building a trail. (See strikethru version of the amended bill here.)
Previously, the bill had called for the immediate abolition of the railroad authority — a state agency — with its assets divvied up between Sonoma-Marin Area Rail Transit, a commuter train agency, on the south, and the California Department of Transportation in the north. The idea was that Caltrans would hold the northern assets for a couple of years while the state formed the "Great Redwood Trail Agency," which would be charged with building a pedestrian trail down the former railroad's right of way. The railroad authority's debts would have been paid off by the state.
Under the new version of the bill, the North Coast Railroad Authority is kept intact, but its mission redefined — rather than running or attempting to expand freight train service, as it does currently, the authority will be charged with assisting the Department of Transportation in developing a shutdown and railbanking plan. Critically, the NCRA would continue to hold title to its railroad assets.
McGuire's amendment appears to be a response to fears that Gov. Jerry Brown would veto the legislation as it had been written, on the grounds that it would require several millions of dollars of additional state spending to retire the NCRA's debt. (It's still not known exactly how much the authority owes.) In recent weeks, supporters of the bill have been publicly campaigning to put pressure on legislators and Brown to find the funds — see here and here, for example — and the new strategy, which keeps the debt where it is for now, seems to be an acknowledgement that this campaign is likely to fail.
The bill — Senate Bill 1029 — sailed through several legislative committees and was passed by the Senate on a vote of 36-0 back in May. The assembly must vote on it by the end of the month if it is to pass in this legislative session.
McGuire could not immediately be reached for comment.