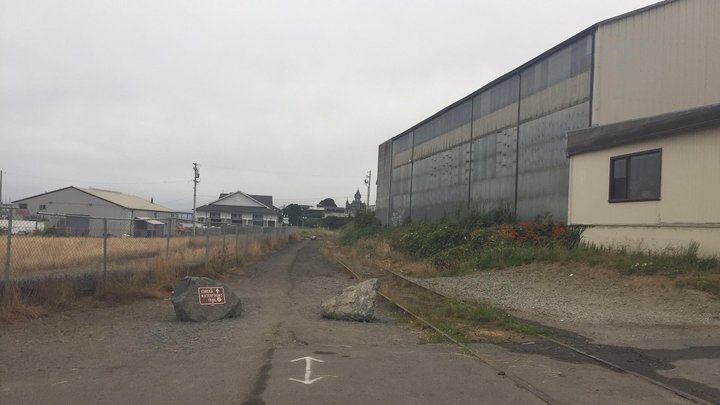 Last week, at a meeting of the California Transportation, the City of Eureka finally secured all the money it needs to complete a bit of roadwork that has been on its wishlist for over a decade — bridging the gap between H and I streets on Waterfront Drive.
The $2.3 million that the CTC awarded the city — taken from an old fund left over from when the 101 bypass through Eureka was abandoned — represented the last bit of money that the city has been gathering to fund the connection between the eastern stretch of Waterfront Drive (by the Adorni Center) to Old Town's First Street.
Eureka Public Works Director Brian Gerving told the Outpost yesterday that the city hopes to break ground on the project in the spring. Construction will run from G Street to J Street, and the finished product will include an extension of the Waterfront Trail through the missing block, in addition to regular car lanes.
So people looking to get from place to place along the waterfront — or people looking for an additional east-west through route near town — can look forward to that soon. But Eureka actually has bigger dreams for Waterfront Drive.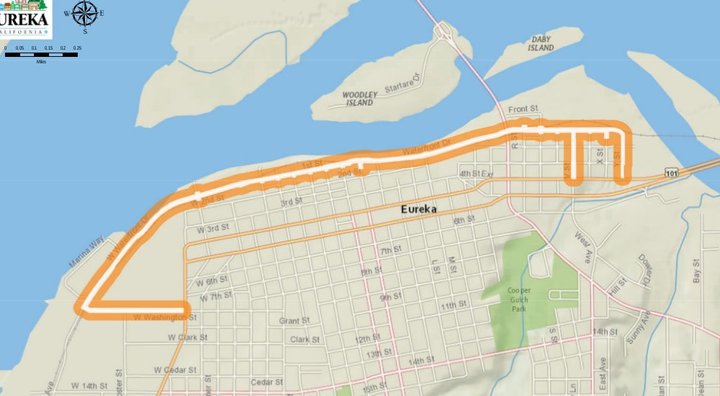 The city has applied for an additional pot of cash — just under $9 million — to undertake what it's calling its "Waterfront Drive Revitalization" plan. The goal is to build a grand thoroughfare running all the way from the Wharfinger Building to Target, through Old Town, underneath the Samoa Bridge and along First Street near the Blue Ox Mill.
The revised boulevard, Gerving told the Outpost, is "meant to be a direct route to get traffic into Old Town and to the waterfront industrial area, and a means of relieving some of the congestion on the 101 corridor by peeling some of the traffic off." It would also improve the access of freight trucks to piers on the city side of Humboldt Bay.
For the moment, the plan no longer includes the ill-starred extension through the Palco Marsh, which the city spent much of the aughts banging its head against the wall trying to build.
The $9 million in grant funding for the project could come from the federal Department of Transportation's BUILD grant program. The city has already submitted its application.
###
DOCUMENT: