A McKinleyville man convicted of gross vehicular manslaughter for the death of his best friend was sentenced today to five years of supervised probation and 180 days in jail.
Judge Dale Reinholtsen imposed the sentence on 27-year-old Victor Manuel Herrera, who was behind the wheel when his SUV went off Highway 101 and over a bank near Trinidad. His passenger, Orick resident Glen Anthony Roe Jr., died in the wreck on March 23, 2017. Herrera posted $100,000 bail after his arrest and has remained out of custody.
During the sentencing, Roe's older sister, Eunice Oquist, sobbed as she read statements from her 13-year-old daughter and her brother Josh Oquist. Both expressed their grief and pain over losing the man with the family nickname "Boo."
"Whoever you are," Josh Oquist wrote to Herrera, "you have your whole life ahead of you. You made the choice to get behind the wheel and drive drunk and kill your best friend. You killed my little brother, and he was my best friend before he was yours."
The brother said Glen Roe Jr. was killed two weeks before his 26th birthday. "All I could think of the first night, (after the death) was that he was in a strange place alone."
SEE ALSO: OBITUARY: Glen Anthony Roe Jr., 1991-2017
Josh Oquist borrowed money to pay for his brother's funeral. He picked up his meager belongings, including his wallet with $10 inside and his shoes, "with glass and blood still in them."
And a memory that will always haunt him, he wrote, was "hearing the sounds of the dirt hitting the casket."
Eunice Oquist said her daughter couldn't be in court because today was her first day in eighth grade. But she wrote a letter saying how much she misses her "Uncle Boo," who always told her she was his favorite niece. Now her uncle won't be there to watch her graduate from eighth grade, go on to high school, excel in sports.
"Even after a year my brain still doesn't believe he passed away," the 13-year-old wrote. She said she finds herself a much quieter person now, one who thinks more and speaks less.
"I don't say his name often," she said, "because when I do I'll know he's dead."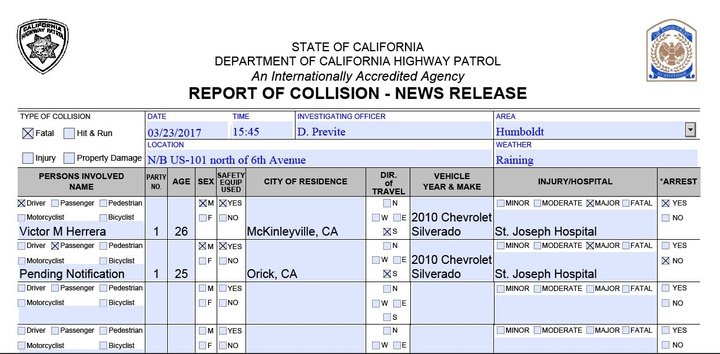 Speaking for herself, Eunice Oquist said her brother was killed "less than a mile from my house and three days before my birthday. I have to drive by there daily."
She said her brother's death put her in such a dark place, she "was pretending to be a person but I was just a shell." She was helped by weekly counseling sessions.
Herrera stood silently next to his attorney, Deputy Public Defender Luke Brownfield, as Eunice Oquist made her tearful statement.
"Mr. Herrera made a terrible mistake," Brownfield said, "and he has taken responsibility for it (by pleading guilty)." Brownfield said Herrera is experiencing "genuine grief" over the loss of his best friend.
"There's no resolution that can bring Mr. Roe back," Brownfield said. "He is deeply sorry for the pain he has caused."
Deputy District Attorney Joel Buckingham, representing the prosecution, said he believes Herrera's sentence is appropriate because "it was a choice he made" to drive that day. But Buckingham also said it appears Herrera has spent time reflecting on the choice he made.
"I hope he can hold onto the memory of this event so no-one else has to suffer this grief," he said, looking at Herrera.
Reinholtsen called the death a "senseless tragedy, resulting in the premature death of a young man." He noted the men had been drinking alcohol, smoking marijuana and using nitrous oxide before the wreck occurred.
The judge also noted, however, that the fatal crash "was the only offense in (Herrera's) life," other than one violation of disturbing the peace.
Herrera was ordered to commit himself to Humboldt County Correctional Facility on Sept. 15. Defense attorney Brownfield said after the sentencing that he is eligible to serve the time working for the Sheriff's Work Alternative Program, or SWAP.
Outside court, Eunice Olquist said she didn't feel Herrera was punished enough.
"It was what we expected though," she said.
###
PREVIOUSLY: