Apparently the County isn't keeping close track of its own history!
Earlier today we published the press release below, which states that one Cody Roggatz has been hired "as the county's first-ever Director of Aviation [emphasis added]."
But check it out: A friendly Outpost reader directed our attention to this here photo, posted on the Facebook page for Fly Humboldt. It's the front page of the Humboldt Times from September 24, 1953, and there, above the fold, a headline announces the creation of the Humboldt County Department of Aviation. The department even had its own logo.
Over on the right-hand side of the page there's a photo of a sensible-looking man in a suit and tie. The caption reads, "Bill Levings was named first director of aviation for the county."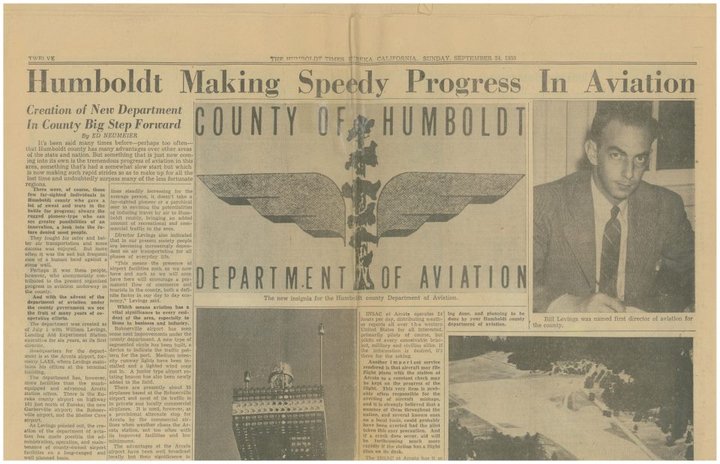 So there you have it.
Sean Quincey, the county's public information specialist, said via email that by 1958 the Department of Aviation had apparently been absorbed by the Public Works Department.
###
Original post:
The County's getting ready to launch a whole new [not really; see above] department, allowing the Aviation Division to leave the nest of the Public Works Department and — it is hoped — fly to greater heights with its newfound independence.
This development follows the advice of Volare Aviation Consulting, a firm the county hired this past fall to help diagnose what's been ailing the operations of our local airports.
The firm's report found that keeping Aviation under the umbrella of Public Works was causing bureaucratic confusion and messy books while preventing the division from operating like an entrepreneurial enterprise.
According to a press release issued today, the Board of Supervisors are set to liberate Aviation later this month, and the County has already hired someone to lead the new department.
From the County:
The County of Humboldt is taking its airport system to new heights, and Cody Roggatz will be the person to lead the way. On Tuesday, Aug. 21 the Humboldt County Board of Supervisors is scheduled to formally appoint Roggatz, currently the Transportation Director for the City of Aberdeen, South Dakota, as the county's first-ever Director of Aviation. Roggatz is set to begin serving on Monday, September 24.


Roggatz's appointment will coincide with the creation of the county's first Department of Aviation. The Public Works Department currently houses Aviation as one of its six divisions. However, county staff will bring an agenda item to the Board later this month that will allow Aviation to become its own department, giving the new department more autonomy as well as a direct reporting relationship to the Board for its director. The department will continue to manage one commercial airport, the California Redwood Coast – Humboldt County Airport, and five general aviation airports. Roggatz and the department will also work closely with the Aviation Advisory Committee, which provides guidance on aviation matters within the county.

Roggatz has more than 13 years of experience in the aviation industry. He has worked on a wide variety of capital improvement projects at previous airports he has served, including: Runway, Taxiway, Apron, Drainage and Equipment Improvement Projects. In his 4-plus years serving as the Transportation Director for the City of Aberdeen, he led his department to more than $15 million in airfield, facility and equipment improvements while simultaneously improving safety and growing passenger traffic.

"I am looking forward to working with the County Board of Supervisors, Aviation Department Team, Airport Users and Citizens to improve the Humboldt County Airport System," Roggatz said. "I believe there are many opportunities for growth to better connect the communities, businesses and residents of Humboldt County to the world and the world to Humboldt County through aviation."

The decision to create a new Department of Aviation followed a 2017 study commissioned by the Board to provide a roadmap to lead the airport system to sustainability.

"I look forward to the county having a Director of Aviation – it is needed to innovate and have the best airport system possible," said Ryan Sundberg, 5th District Supervisor and Chair of the Board. "Cody is experienced, energetic, and is the perfect person to bring those innovative ideas and approaches to Humboldt County. He'll not only be a great addition to the county, but a great community member as well. I can't wait for him to get to work."