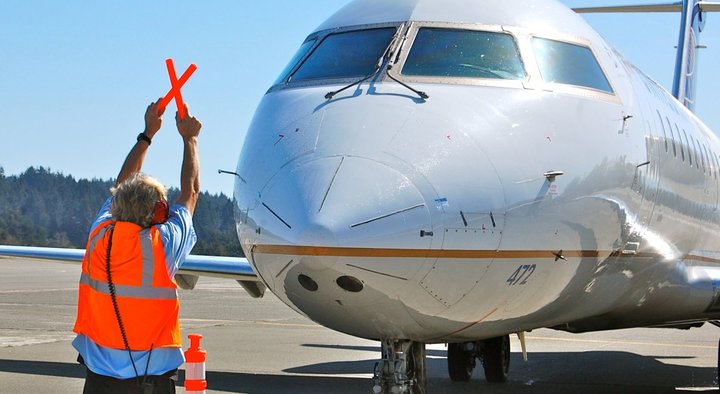 Many of the problems with Humboldt County's airports are apparent enough to everyone.
The county keeps trying to attract new airlines to operate to its main airport, in McKinleyville. When it succeeds, which is rare enough, the success ends up being short-lived. Delta, PenAir, Horizon — all of them operated out of ACV for a short while, sometimes only long enough to suck the marrow out of whatever government subsidy was on offer, and then got the hell out.
The airport's restaurant shut down almost three years ago, and hasn't opened back up. Passengers are down. Flights are delayed. The internet breaks. County government went on a wild rebranding rage and let every interested party spit into the pot, after which the Board of Supervisors officially, ludicrously rechristened ACV as "California Redwood Coast Humboldt County Airport." For some reason this move failed to usher in the new planeloads of tourists that had been forecast.
But there are plenty of behind-the-scenes problems at the airport — and at the five other county-run airports, as well — and these are tackled in a new three-part report by Volare Aviation Consulting, which was recently hired by the county to take a long, hard look at the way we run our airports. It found a lot to dislike.
Much of the report's criticism is leveled squarely at the method by which Humboldt County has chosen to govern its airport services. Unlike in most other places in California, the airport is run by a "division" of a county government department — Humboldt County's Department of Public Works. This is a problem for a few reasons, the consultants write. Airport staff sometimes are not sure who is in charge — the public works chief or the airport program coordinator. More importantly, it has led to some funky finances, in which the mother department "bills" the airport division — its daughter agency — for services rendered. This ends up obfuscating everyone's books.
Perhaps most seriously of all, according to Volare, having airport services underneath Public Works puts the airport's priorities on par with everything else Public Works is responsible for — potholes, etc. — and prevents it from being run as an entrepreneurial enterprise, which is what everyone seems to agree it should be. The report notes several enormous, business-killing delays when the airport needs to get stuff done. PenAir, for example, waited months and months for needed alterations to its check-in desk, which it never received anyway. The consultants note that this would have taken only days, in most airports.
For all of the above reasons, the consultants say the Board of Supervisors should put airport services into its own department, one responsible for its own budget and answerable directly to the board. This is how it's done in almost all other airports in California, as the report details.
The county also comes in for criticism for the structure of its Airport Advisory Commission, a nine-person board meant to oversee airport operations. Eight of the nine members of the commission, who are appointed by the Board of Supervisors, are local pilots. Such a commission not only lacks adequate representation of the broader community that relies on air service — business representatives, tourism-industry people, etc. — it actually represents a conflict of interest, as pilots are the airport's principal customers, at least in the smaller airports. They would be unlikely to recommend higher fees on themselves. The consultants recommend an advisory commission with smaller membership, and with some seats earmarked to various local industry sectors.
Outside of ACV, the report contains bleak language on the future of several of the county's smaller airports — most particularly Kneeland, Dinsmore and Eureka's Murray Field — and suggest that it might be most cost-effective to shutter several of them, or to convert them into helicopter-only landing pads to be used by emergency services.
"This report is not designed to recommend airport closures," the consultants write. "That is beyond the scope. But it is clear the County's leadership will face major decisions regarding Murray Field, Kneeland Airport, and Dinsmore Airport. The County must be prepared to solicit stakeholder and constituent input to consider potential airport closures as facilities deteriorate.
The full report is linked below, in three parts: A financial review, a "governance structure analysis" and a list of possible strategic initiatives — places the airport division might seek new business, or cut losses.
The Humboldt County Airport Advisory Commission will hear from Volare Aviation at a special public meeting on Nov. 9 at 6 p.m., in ACV's conference room. See here for more details. The Board of Supervisors will presumably hold a session on the report at some yet-to-be-determined date.
###
DOCUMENTS: