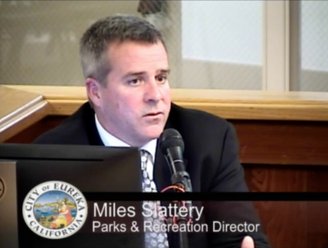 LoCO readers are already well-acquainted with outspoken Eureka Community Services Director Miles Slattery — y'all surely remember hanging out with him down at "Shark Park," on the b-ball court, and in those sparkly Old Town bathrooms. For better or worse, there's been a whole lotta Slattery in Eureka lately and it sounds like all the exposure seems to have gone to his head.
As Slattery learned this weekend, big heads make big targets.
We'll set it up. You may have heard that there's an upcoming professional wrestling show at the Eureka Municipal Auditorium which is also a fundraiser for the Community Access Project for Eureka (CAPE), a Eureka Community Services program that serves disadvantaged members of the community. The Jan. 12 event will feature performers from Bay Area-based wrestling promotion Hoodslam.
Well, Hoodslam is not Miles' cup of tea, it seems. According to sources familiar with the situation, Slattery got wind of the show after it had already been booked and set out to try and have it canceled because he deemed it inappropriate for Eureka.
After several unsuccessful attempts at reining in his subordinates, Slattery brought the conflict to a head this last weekend. When Hoodslam wrestlers James C and Nurse Ratchet traveled to Eureka to shoot a commercial to promote the event Slattery stormed the film set and confronted them which resulted in… well, you can watch below.
Yikes! That's the thing with big mouths. Every so often they get shut.
As of this post the Hoodslam fundraiser is still a go. The Outpost has reached out to Slattery for comment and we will let you know when we hear back. Stay tuned.