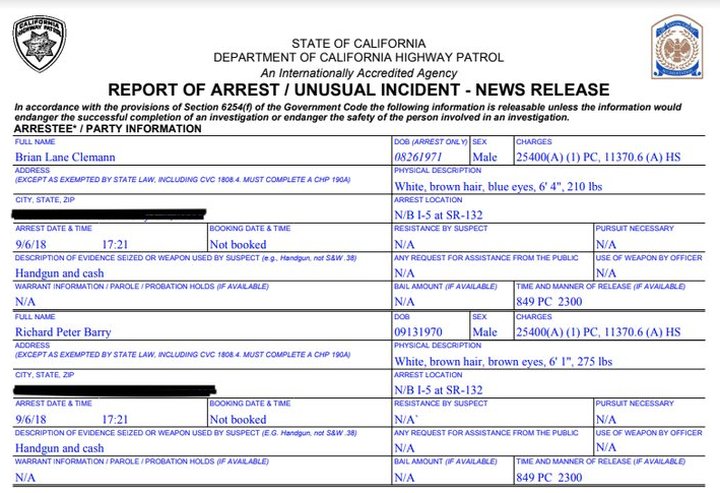 Three months after two former Del Norte County California Highway Patrol officers turned licensed Eureka based marijuana distributors were arrested by Fresno CHP, their lawyer has filed a class-action lawsuit aiming to prevent CHP officers from interfering with state-approved marijuana businesses.
Marijuana Business Daily reports that the suit, filed last week in San Francisco County Superior Court by attorney Matt Kumin, aims to prevent officers from seizing cash and other items from compliant marijuana businesses and handing it over to the federal government — similar to what happened to Wild Rivers Transport, LLC owners Richard Barry and Brian Clemann.
"CHP has gone rogue, and they're going to continue to do it until they're stopped," Wild Rivers attorney Matt Kumin is quoted as saying by MBD during a press conference.
The class-action suit lists the plaintiffs as current state-approved marijuana business, medical marijuana patients and past and present California taxpayers.
Barry and Brian Clemann were arrested in September after officers found more than $200,000 in cash and two concealed, loaded handguns in their pickup truck.
"It appears the CHP will stop at nothing to disrupt the lawful and legal transport of items involved in the medicinal cannabis industry," Barry and Clemann stated in a press release following their arrest. "Despite following all [Bureau of Cannabis Control] rules and regulations, the CHP endangered, harassed, detained/arrested, and mistreated individuals engaged in lawful activities as they relate to cannabis."
No criminal charges were brought against the two local businessmen after being arrested and detained by officers for what they say was roughly six-hours.
Barry and Lemann also filed a separate civil rights suit last week against the CHP seeking damages and the return of the more than $200,000 that was seized by the agency.
###
PREVIOUSLY: