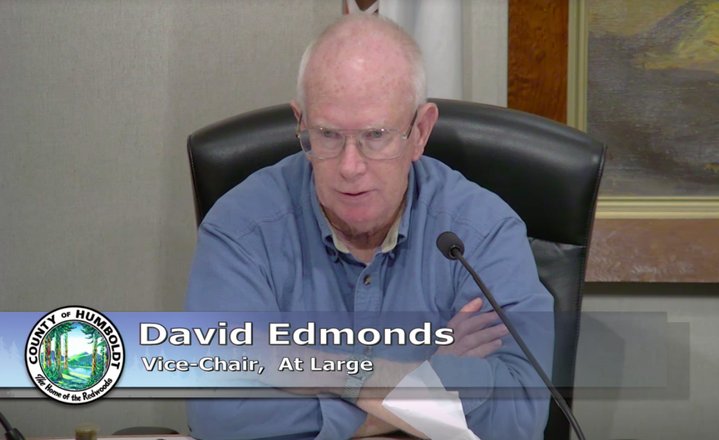 David Edmonds' unexpected — and curiously timed — resignation from the Humboldt County Planning Commission has put the Board of Supervisors in an odd position. The timing was curious in that Edmonds, who's been on the commission since 2011, was nearly done with his current four-year appointment. It was set to expire on Jan. 31. He attended last Thursday's meeting, so in effect he'll only miss one meeting, like a high schooler skipping the last day of class.
But his resignation triggered the official reappointment process. Edmonds held one of two at-large positions on the Planning Commission, which means his replacement must be selected by a majority on the Board of Supervisors.
Ah, but which Board of Supervisors? The current one, with Ryan Sundberg in the Fifth District seat? Or the one we'll have starting next month, when Sundberg gets replaced by Supervisor-elect Steve Madrone?
That was the debate that began during the Board's December 4 meeting and that will no doubt continue tomorrow. If the current board — let's call it the Sundberg Board — makes an appointment tomorrow, the appointee will finish out Edmonds' term, meaning he or she will attend just one meeting before being up for reappointment. But if the Sundberg Board doesn't name a replacement tomorrow, the decision will fall to the Madrone Board, and the new appointee will get a full four-year term, starting in February.
There are some parallels, here, to the contentious political maneuverings that surround Supreme Court appointments, with one wing of the government apparatus angling to rush through an appointment while the opposing wing urges delay.
At the Dec. 4 meeting, Third District Supervisor Mike Wilson said that the Planning Commission is second only to the Board of Supervisors itself in terms of the power and influence it has over the lives on local residents. The seven-member commission rules on a broad range of land use issues; its decisions can make or break businesses, settle disputes between neighbors, and affect the character of the county's vast unincorporated regions.
Wilson argued that the board shouldn't rush the appointment. People need time to be made aware of the vacancy and get their applications in. "I would prefer we bring this back in January for appointment," he said.
First District Supervisor Rex Bohn disagreed. "I think we all know who the players are gonna be," he said, and quickly made a motion to schedule the appointment for the Dec. 18 meeting. "I think that the people who are concerned about this … are fully aware [of the vacancy]," he argued. "I think they'll get [their applications] in pretty quick."
Fourth District Supervisor Virginia Bass seconded the motion but said she was struggling with the issue. Anyone appointed to finish Edmonds' term would "just be basically filling in," she said, and ultimately she thought that would be fine. "I'm hesitant to leave [the position] empty," she said. "I can be okay with [making an appointment on] the 18th knowing that the actual appointment could happen in January."
Wilson pushed back. "It seems rushed to me, just makes me uncomfortable," he said. He took issue with Bohn's suggestion that the people in the know were likely to be the only candidates, and he reiterated his preference for waiting until January. "The timing is a bit strange," he said. "I don't understand why Mr. Edmonds chose to resign a month and a half before the time we would be changing over."
Second District Supervisor Estelle Fennell sided with Bohn, saying a Dec. 18 appointment seemed like plenty of notice.
During public comment, Supervisor-elect Madrone urged the board, for the sake of "efficiency and collegiality," to wait until he's seated before making the appointment.
"I think it's very unfair to [a potential] planning commissioner to say, 'We'll appoint you for one month and then see what happens.' That's kind of jerking people around," Madrone said.
The board argued a bit more. Wilson said it didn't make sense to have a debate and, most likely, a split vote over an appointee only to do it all again the next month. And Fennell questioned whether they could even find someone willing to serve on the commission for a single month.
Sundberg, sounding peeved and impatient, said, "I think we've beat this up. Let's just vote on it." And the board did so, voting 4-1, with Wilson dissenting, to consider an appointment at the Dec. 18 meeting.
The Outpost reached Edmonds at home late last week, hoping to find out why he resigned when he did. He said he'd grown frustrated with the county's sanctioning of cannabis businesses. While he understands the reasoning behind bringing illegal grow operations into compliance, he feels that the county opened Pandora's box.
"It's getting to be point where the one thing we seem to be able to offer people coming into the area is marijuana," he said. "I've thought for some time that we should look elsewhere to improve our economy." Edmonds sometimes wound up the lone dissenting vote on decisions, and he didn't approve of where the county seemed headed. "I just think we're feeding the fire," he said.
So why not finish out his term? Why quit with just one meeting left?
"I guess I'd reached a level of frustration that I didn't want to be involved in it anymore," he said. "I know it came about all of a sudden, and I probably should have given more notice. I was just frustrated."
And so here we are.
The agenda for tomorrow's meeting went up Friday, and it contained eight applications for the vacated at-large position on the Planning Commission. It's not clear, though, which if any of the candidates would be interested in a one-month appointment. In fact, one applicant, Kathryn Donahue of Blue Lake, called the Outpost on Friday to say she's hoping the board will wait until Madrone is seated.
"Steve Madrone is interested in progressive issues," Donahue said, noting that she shares that political persuasion. "Right now, with Sundberg on the board, it's unlikely that I would be put on that commission. … I am asking people to send an email if they can't appear [in-person] to speak to the effect that they need to postpone this vote until January when the new board is seated."
Here's a quick look at the eight current applicants. Notably, considering the all-male makeup of the current commission, five of the eight applicants are women. We've provided a link below to the full applications:
John W. Schutt, Jr.

Occupation: Professor at College of the Redwoods/Retired police officer
Lives in: McKinleyville
Also of note: Former chairman of the Humboldt County Republican Central Committee
Quote from application: "I have always had a strong desire to serve the community in which I have lived and have done so in every capacity that I could."
Carol Fritz Hoopes

Occupation: Owner/winemaker at Monument Mountain Vineyards
Lives in: Rio Dell
Also of note: Served on the Architectural Review Board for the City of Fairfield
Quote from application: "I want to play a role in shaping the development of the county [of] my birth and ancestral home since the 1890's. I have a passion to make this county great and to preserve Humboldt's greatest assets."
Peggy O'Neill

Occupation: Planning and community development director for the Yurok Tribe
Lives in: McKinleyville
Also of note: Worked at Trinidad Rancheria, as general manager of Cher-Ae Heights Bingo and Casino, during Sundberg's tenure on the Rancheria's tribal council
Quote from application: "I am interested in sustainable and responsible planning that supports both a growing economy while at the same time does not compromise our natural resources and community concerns for responsible growth."

Mike Harvey

Occupation: Insurance agent/agency owner
Lives in: Arcata
Also of note: Coaches high school basketball and golf
Quote from application: "I served on the Blue Lake Fire Board for ten years. During that time I was a special districts' appointee to serve on LAFCO [Local Agency Formation Commission]. I have also been an active voice while the County developed its general plan update."
Kevin Caldwell

Occupation: Community development director/building inspector for the City of Rio Dell
Lives in: Rio Dell
Also of note: Worked as a senior planner for Humboldt County from 1992-1998
Quote from application: "I'm an advocate for affordable housing, transportation-oriented development, permit streamlining, environmental justice, economic development and public participation."
Kathryn Donahue

Occupation: Retired (former partner in a construction business, registered nurse)
Lives in: Blue Lake
Also of note: Serves on the board of Waterfront Recovery Services
Quote from application: "Planning Commission decisions affect our ability to have a good, sound and healthy community, which is deeply important to me as a 40-year resident of Humboldt County."
Elizabeth I. Campbell-Chase

Occupation: Realtor at RE/MAX Humboldt Realty Corp.
Lives in: McKinleyville
Also of note: Earned her Masters of Science degree in natural science from HSU in 2005
Quote from application: "I have spent a lot of time navigating difficult properties, building projects and permitting hurdles. I feel I can bring a perspective to the floor that helps with resolutions."

Teisha Mechetti

Occupation: Owner of AgDynamix, a cannabis consulting firm
Lives in: Eureka
Also of note: President and founder of Moonlighting Fuels, a research and development firm focusing on agriculture and biomass waste
Quote from application: "It is important for the community and the economy that the Commission is comprised of a diversified base of knowledgeable persons surrounding the Humboldt County region … ."
###
The Board of Supervisors meeting will begin at 9 a.m. at the county courthouse, located at 825 Fifth Street in Eureka. If you'd like to contact your supervisor for this or any other issue, here's their contact info:
First District Supervisor Rex Bohn:
(707) 476-2391
rbohn@co.humboldt.ca.us
Second District Supervisor Estelle Fennell:
(707) 476-2392
efennell@co.humboldt.ca.us
Third District Supervisor Mike Wilson:
(707) 476-2393
mike.wilson@co.humboldt.ca.us
Fourth District Supervisor Virginia Bass:
(707) 476-2394
vbass@co.humboldt.ca.us
Fifth District Supervisor Ryan Sundberg:
(707) 476-2395
rsundberg@co.humboldt.ca.us
###
DOCUMENTS: Applications to serve on the Humboldt County Planning Commission