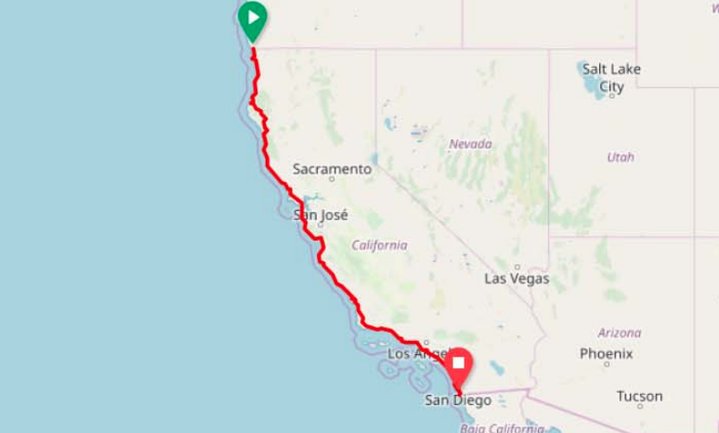 A new U.S. bike route spanning the country's western seaboard is being drawn up by various government agencies in California, Oregon and Washington, in hopes of bringing in more tourism dollars to coastal communities.

Adventure Cycling Association Volunteer Coordinator Kerry Irons told the Outpost that U.S. Bike Route 95 can be officially designated by the American Association of State Highway and Transportation once local governments have had a chance to sort out the details.
"Each state — in this case Caltrans — designates routes for this national corridor," Irons said. "In order for a state to request designation form AASHTO, they need to hear from each local jurisdiction."
The City of Arcata became the latest local government to support the designation when the City Council adopted a resolution supporting U.S. Bike Route 95 during its last meeting of 2018.
Assistant City Engineer Netra Khatri told the Outpost that, for now, the route will travel through local city streets and along Highway 101, but added that the route will likely be switched over to the Humboldt Bay Trail once it's completed.
Caltrans spokesperson Myles Cochrane said that Eureka, Crescent City, Del Norte County, Fort Bragg and Mendocino County governments have also shown support for U.S. Bike Route 95
"Our goal right now is to get as many letters of support as possible," Cochrane said. "Having all local governments on board is going to make the process pretty easy. If not, we're going to get as many as possible, submit that and hope for the best."
Cochrane said it's unlikely that many local governments will oppose the bike route, because it's a relatively cheap commitment that would only set them back for the cost of a few road signs.
According to the City of Arcata, the route would be economically beneficial to the region because bicycle travel and tourism is a $47 billion industry in North America.
"[Bike routes are] mostly a tourism thing, but they also highlight opportunities for local people as well," ACA Coordinator Kerry Irons said. "Biking down the coast is a bucket list item for people across the planet. Thousands of people ride their bikes down the coast every year."