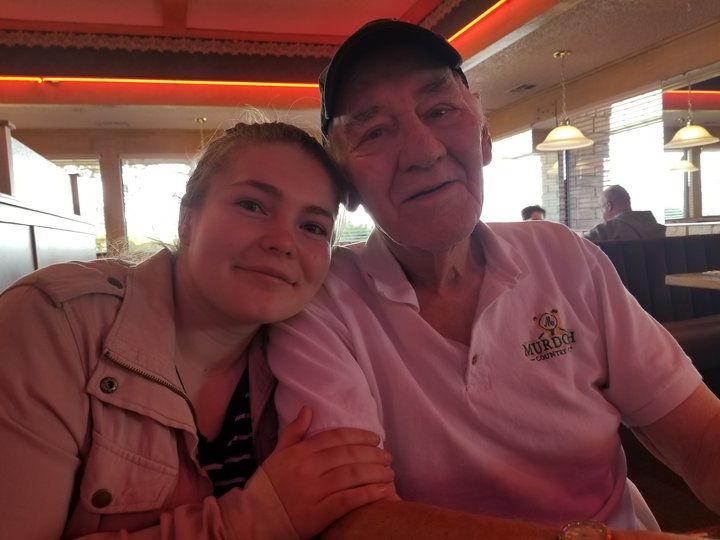 Long-time Fortuna resident, Hartland "Tony" Murdoch left this world peacefully, in the early morning hours of Tuesday, December 11, 2018, after entering it 80 years ago, on April 8, 1938 in Lachutte, Quebec, Canada.
Tony began his time with us in Canada, the third child of Pearly and Geraldine Murdoch. After 17 eventful years in Lachutte, Tony left high school to begin work on the Saint Laurence Seaway. After suffering a terrible accident on the job and spending almost two years recovering and learning how to walk again, he headed to Detroit, where he would meet his first wife, Lillian and pursue his dream to join the US military. His time in the military sent him to Alaska for a brief time, and upon his return to Detroit, he and Lillian enjoyed the birth of their two children, Valerie and Kirk. Sadly, the marriage dissolved, and he found himself in Northern California in 1964, just months before the 1964 flood. Easily and quickly finding work, (always a HARD worker) in the timber industry, he was busy again. Shortly after the Flood, Tony met the love of his life in August of 1965, Janelle Edna Kuchel, native of Iowa. The two were married on November 6, 1965 in Iowa. The newly married couple returned to Northern California to begin their life together. They started their small family quickly, with the birth of their only child, a daughter, Ranae Murdoch-Liles in 1966. Janelle continued teaching school while Tony continued working in the timber industry, until his entrepreneurial spirit led to his founding of Scrap Metal Enterprises. He enjoyed the hard work of a self-employed business man, until his retirement.
During his lifetime, and especially during his busy retirement, Tony was an avid reader. He was especially fond of all things history, especially US and military history. Watching "Jeopardy" with his daughter was always exciting, (because she didn't have a chance against him), when related categories came up.
Always an animal lover, (yep..you can hunt and fish and be an animal lover….he taught me that!), he could always be found with a dog by his side. Some of his best four-legged friends were Daisy, Dakota and Maggie Rose and Molly Mae. Their departures left an obvious void. He is survived by his most recent canine companion, a Rottweiler named Sassy.

He will be remembered by the many friends he made over the years cultivating his great skill playing poker at local hangouts, like the S and K in Old Town, Eureka. He was blessed that many of these friends also shared his passion for duck and deer hunting whenever the opportunity presented itself.
No passion compared to the birth of his granddaughters, Trinity Eve Liles, Sarah Ranae Liles and Nicole Mazur. Nothing could light up his bright eyes and bring a smile to his face than a chance to talk about them and how proud he was of them.
Talking was a hobby that kept him busy all the way to the end of his journey. In addition to talking about his granddaughters, he could often be seen around town and at his favorite local restaurant, Peppers, talking with friends (loudly) about current events and politics, especially in an election year.
Tony is survived by many friends and family who will miss him terribly; his devoted wife of 53 years, Janelle Murdoch, his daughter, Ranae Liles and her husband Matthew, his grand-daughters, Trinity Eve Liles, Sarah Ranae Liles, and Nicole Mazur, and his older sister, Jacqueline Murdoch.
He was preceded in death by his father, Pearly Murdoch, mother, Geraldine MacKinnon, (very proud of his Scottish ancestry), his big brother, James, "Jimmy" Murdoch, (terribly missed), and his first and only son, Kirk Mazur, (a very recent painful loss).
At Tony's request, there will be no services. No service could possibly be adequate to contain the memories created by this very full life. Family would like to request that friends and family sign the virtual guest book with the Times-Standard or leave a comment here. Goodbye, Daddy, you will be missed.
###
The obituary above was submitted on behalf of Tony Murdoch's family. The Lost Coast Outpost runs obituaries of Humboldt County residents at no charge. See guidelines here.