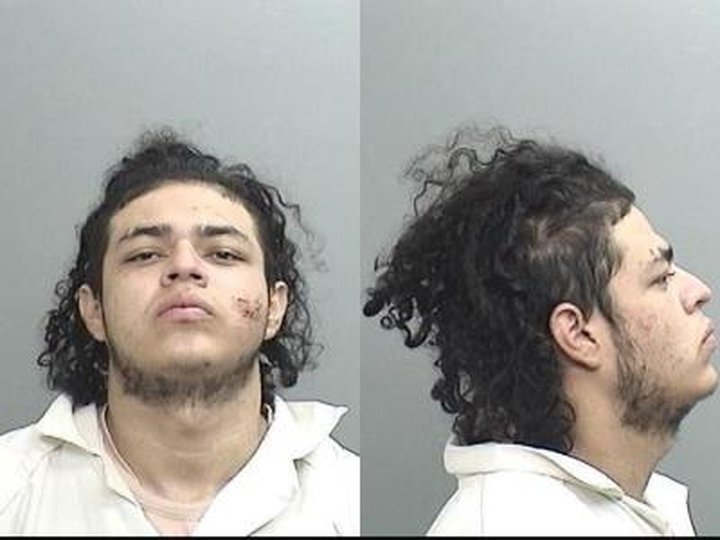 Mendocino County Sheriff's Office press release:

On 12-21-2018 at about 9:41 p.m. Mendocino County Sheriff's Deputies were advised to be on the lookout (BOLO) for a white color GMC Denali, which was reported to have been taken in a 211 PC Robbery in the Alder Point Area of Southern Humboldt County. The vehicle was reported to be traveling over Bell Springs Rd in Mendocino County towards Highway 101. Dispatch further advised several firearms (possibly 6 total), $30,000 in us currency, and marijuana was taken.

Deputies located the vehicle traveling south bound on Highway 101 in the area of Ten Mile Creek Rd in Laytonville. Units followed the vehicle while the Humboldt County Sheriff's Office worked with OnStar to disable the vehicle. Just south of Laytonville the vehicle appeared to be disabled and started to pull over but then pulled back onto the roadway, at which time a pursuit was initiated. This may have been due to the vehicle loosing contact with OnStar in the Canyon along the Highway 101 corridor.

The vehicle was finally stopped in the area of south bound Highway 101 near mile marker 63, where a standoff with the suspect began. With the assistance of the California Highway Patrol Highway 101 was closed to traffic in both directions. The suspect refused to comply with commands to exit the vehicle, which were given in both English and Spanish. Deputies believed the suspect spoke limited English and that Spanish was his primary language. Initial contact was make with the assistance of a Spanish speaking Cahto Tribal Police Officer.

A Spanish speaking Crisis Negotiator engaged the suspect in dialog after the Mendocino County Interagecy SWAT Team responded with the Citizen Rescue Vehicle (CRV). During the negotiations, suspect Molina made several threats to kill law enforcement and indicated there were additional suspects accompanying him in a second vehicle. This information was confirmed with Humboldt County Sheriff's Office. Deputies saw what appeared to be an object in the suspect's hands that might have been a handgun. Fire and Emergency Medical units were staged after deputies observed the suspect spraying a substance inside the vehicle leading them to be concerned he might set the vehicle on fire.

After a lengthy standoff, suspect Molina exited the vehicle. Molina was not cooperative and continued to place his right hand behind his back, as if he had a weapon. Due to the nature of the call, the suspect potentially being in possession of one or more firearms and his refusal to comply with demands to surrender, the SWAT Team deployed a less lethal 40 mm round, striking suspect Molina one time. Molina immediately fled fled on foot south on Highway 101.

Sheriff's K9 Ruddick was deployed and apprehended Molina approximately 100 yards south of the original stop and took him to the ground. Molina was taken into custody without further incident. Molina was then transported to Howard Memorial Hospital for treatment of K9 bite and due to him being struck by the less lethal device. Molina was medically cleared for incarceration with only minor injuries received during apprehended by K9 Ruddick. In a cursory search of the vehicle, after Molina was apprehended, a CO2 air pistol was located which was very similar in appearance to a real handgun.

After taking Molina into custody the SWAT Team attempted to locate a second suspect vehicle in the stopped traffic north of the incident location. No additional suspect vehicle nor suspects were located. Highway 101 was re-opened to traffic at approximately 12:45 a.m.,
Molina was transported to the Mendocino County Jail and booked for 69 PC, 2800.2 CVC, and 148(a) PC. Molina was to be held in lieu of $35,000 bail. In addition, Humboldt County Sheriff's Office secured a warrant for the suspects arrest on the charges of 211 PC (armed robbery), 236 PC (false imprisonment), 207 PC (kidnapping), 245(a)(2) PC (assault with a deadly weapon-firearm) and 10851 CVC (vehicle theft), bail on the Humboldt County warrant was listed at $250,000.

The Mendocino County Sheriff's office would like to thank the California Highway Patrol, Willits Police Department, Laytonville Cahto Tribal Police, Laytonville Fire and Cal Fire for their assistance on this incident.
###
PREVIOUSLY:
Man and Daughter Tied Up, Beaten in SoHum Home Invasion Robbery; Suspect Taken Into Custody After OnStar Disables Stolen Vehicle